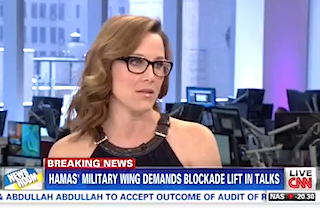 On Thursday afternoon, Crossfire host S.E. Cupp appeared on CNN with Brooke Baldwin to expand on a column she recently published in the New York Daily News, which criticizes the media for failing to mention that one of Hamas' stated goals in the annihilation of Jews in Israel.
Cupp began by saying that the media treats Hamas like a "political organization" with reasonable demands instead of focusing on their "true objectives, which are the total destruction of Israel and annihilation of the Jews."
"So for media reports to omit that and just talk about the political demands seems like a real glaring example of either bias or a Hamas victory on the PR front," Cupp said.
Playing devil's advocate, Baldwin said the "flip side" of Cupp's argument is that Israel has been shooting missiles at Gaza that have killed hundreds of civilians.
RELATED: S.E. Cupp on The View: Palestinians Are 'People,' Hamas Are 'Terrorists'
"It's not a bias to reflect sympathetically on deaths of innocent Palestinians," Cupp said. Instead, she said it's the "omission" of Hamas' goals that bothered her. "Imagine if we were doing a news report, you and I, on what Hitler wanted," she said. "And we said, well, he very much wanted to annex Poland and parts of Russia." While that may be "factually correct," it leaves out the important point that he "also wanted to kill a lot of Jews."
Ultimately, she said by failing to mention Hamas' charter, the media is creating a "moral equivalency" between Hamas and Israel that just doesn't exist.
Watch video below, via CNN:
[Photo via screengrab]
— —
>> Follow Matt Wilstein (@TheMattWilstein) on Twitter
Have a tip we should know? tips@mediaite.com