S.E. Cupp: 'You Can Say That Michele Bachmann Likes Attention. So Does John McCain.'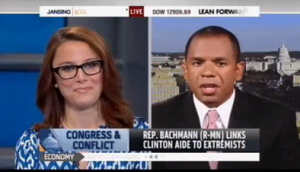 On Thursday, MSNBC's Chris Jansing invited Rep. Keith Ellison and The Cycle co-host S.E. Cupp onto her show to offer their take on Michele Bachmann's letter expressing concern over Hillary Clinton aide Huma Abedin having potential ties to the Muslim Brotherhood.
RELATED: McCain Rips Into Michele Bachmann's Accusation That Sec. Clinton Aide Is Muslim Brotherhood
Ellison noted that Bachmann had sent him a 16-page document "full of allegations, rehashed, regurgitated. Just stuff from anti-Muslim websites. But she's sent me no evidence" linking Abedin to the group. He later said that, while he finds Bachmann to be personally charming, what she did was "beyond the pale" and invokes shades of McCarthyism. Bachmann's accusations of possible disloyalty on Abedin's part were unfounded and hurtful, he said, and, as such, she should apologize for them.
Later, Cupp pointed out that "most of us would not have known this story had John McCain not taken to the floor and broadcasted the story out. You know, you can say that Michele Bachmann likes attention. So does John McCain."
"You're missing the point, S.E.," said Jansing. "That there's a reason perhaps why she was singled out by people who want to bring attention to what they believe is a legitimate issue and the timing also could be considered a little suspect. Huma Abedin and her husband coming out in People magazine, they're back in the news."
Cupp noted that people expressing concern over a particular group's ties to terrorism — in this case, the group is specifically Muslims in America — will always face accusations of racism or bigotry. "I don't think that asking questions about a high-level aide and national security implications makes you a terrible person," she said.
Fellow guest Doug Thornell felt that this was little more than an attempt by Bachmann to grab attention.
Have a look, via MSNBC:
Have a tip we should know? tips@mediaite.com