S.E. Cupp's Debate Advice For Romney: Attack Obama's Foreign Policy Failures 'From The Left'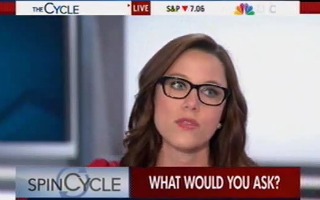 MSNBC host S.E. Cupp offered some advice to Republican presidential nominee Mitt Romney ahead of Monday's night's final presidential debate which will focus on issues related to foreign affairs. Cupp said that Romney can establish a lead over President Barack Obama in this debate that will be difficult to overcome if he spends the debate speaking to the concerns of crossover voters who may have cast their ballots for Obama in 2008. In order to do that, he should focus on attacking Obama's foreign policy "from the left."

"I do want to see Libya relitigated tonight," said Cupp, noting it is likely the federal governments failures in the wake of the September attack on an American consulate in Benghazi would be the focus of much of the debate. She added that the Iranian nuclear program and the rapidly deteriorating civil war in Syria would also be likely topics of discussion.
"Where Romney needs to not get mired down tonight is on those specifics – those, who said what, when and where on all of these issues," Cupp said. "I think he needs to paint a larger picture of a very confusing Obama foreign policy."
Cupp said that Romney can draw a parallel between Obama's "winging" of his handling of the economy and his "confusing foreign policy," suggesting that Romney can intimate that the president has no coherent strategy and has been addressing issues and crises ad hoc.
"I would love for Romney to come at Obama from the left on his foreign policy," said Cupp. "To those soft Obama voters who might be a little disappointed , or those undecideds, I think he can talk about those drone strikes, or the killing of an American citizen without due process — going into Libya illegally without Congressional approval. All of the things that made Bush unpopular to a segment of the left.
Watch the segment below via MSNBC:
> >Follow Noah Rothman (@Noah_C_Rothman) on Twitter
Have a tip we should know? tips@mediaite.com