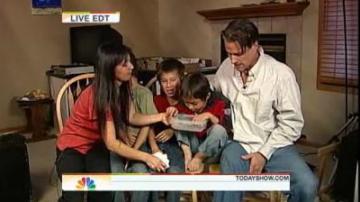 As expected, Balloon Boy's comment on CNN's Larry King Live last night ("we did this for a show") has caused a media frenzy – although not nearly as much of a frenzy as the whole Balloon incident that started this thing.
The parents of six-year-old Falcon Heene thought it would be a good idea to go on the full morning show circuit, but to prove just how good an idea it really was, Balloon Boy puked live on air during two interviews.
Good Morning America's appearance brought a new wrinkle to the story – home video footage of father Richard Heene releasing the balloon, after a countdown. He says he found out after his other son thought Falcon was on board. With this new info, Richard was still not understanding all these 'hoax' questions. "To have people say that, I think, is extremely pathetic," he said to Diane Sawyer.
But the really disturbing part of the story came about a few minutes later, when Balloon Boy said, "Mom I feel like I'm going to vomit," started to get sick and ran off to the bathroom. Sawyer asked if a parent wanted to go with him, since they didn't seem to be in any hurry at all. He was back in front of the camera, with a new shirt, in minutes.
This pretty much sums up a lot that's wrong with the situation post-empty-balloon-landing. It occurred before Falcon had thrown up:
Falcon: Mom…
One parent: Shh.
Sawyer: You seemed angry.
Richard: Yeah, well. I'm sorry for yelling at you by the way
Later the family were on NBC's Today show, and, once again, Falcon was throwing up in his father's lap (this time it was on camera, as the picture above shows).
Meredith Vieira asked the family about the comment on CNN last night. "Absolutely not, absolutely not, now I'm started to get ticked off, because I'm repetitively getting asked this the last couple of interviews. What do I have to gain out of this? I'm not selling anything."
Yes, you are. You're a reality show family, looking for more fame. You're selling your family, your lifestyle, your odd inventions. And your son, the new bizarro world star "Balloon Boy," is literally sick after all this.
(One note – the authorities have said they have changed their mind and will question Richard Heene further today. Sounds like a good call.)
>>> NEXT: See the full interviews from NBC, ABC and, why not, CBS too:
Have a tip we should know? tips@mediaite.com