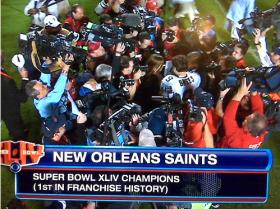 SAINTS! The New Orleans Saints are the winners of Super Bowl XLIV, coming from behind to defeat the Indianapolis Colts and golden boy Peyton Manning to take the championship back to Bourbon Street and their wounded — but not broken! — hometown. It's a pretty awesome story.
"Tonight, the two best teams in the NFL played another classic game," said NFL Commissioner Roger Goodell. "But tonight, the Super Bowl belongs to the City of New Orleans!" He then presented the Vince Lombardi trophy to New Orleans Saints owner Tom Benson, who was asked "How can you possibly put into words what this night means to you and the city of New Orleans?" Said Benson: "Not only the city, but this whole state — and Louisiana, by the way of New Orleans is back! And it showed the whole world! We're back! We're back! The whole world!" Then, joking that he could "kiss" head coach Sean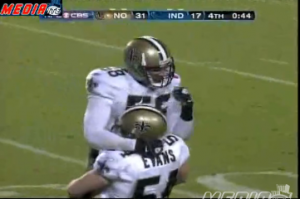 Payton, he handed the trophy over to the coach — who lifted it high. Said Payton: "Everybody back in New Orleans gets a piece of this trophy." And on Bourbon Street, they went wild.
Then he handed the trophy to MVP QB Drew Brees, and they hugged. "We knew that we had an entire city and maybe an entire country behind us," said Brees. "Mardi gras may never end — the celebration's not gonna end."
Sorry, Colts. This is the ending we were all rooting for. But — good game! At least you were leading for most of it. Oops, that probably doesn't make you feel better.
Here's the winning play:


Saints MVP and Quarterback Drew Brees, with his son, which caused the CBS announcers to go all gushy and start blathering about fatherhood (cf. Peyton and Archie Manning, btw):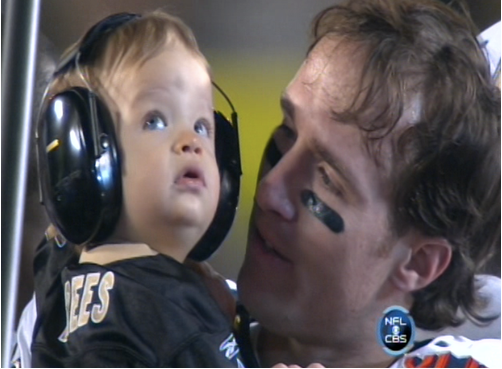 (Image via SoupSoup)
…and here is what my previously-mentioned football guru-blog In Other News said was "heard 'round the world." Well, certainly on Bourbon Street. BTW there's a "Pret a Porter" joke in there somewhere. I am betting the CBS announcers can't find it though.
…and, back home on Bourbon Street: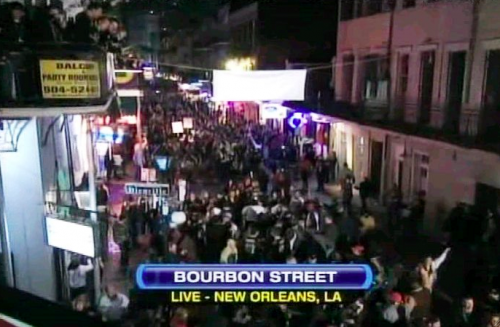 Related:
Louis Armstrong – When The Saints Go Marching In


(Via Winston Wolfe)
Top photo via In Other News. Thanks to my Tumblr dashboard for teaching me about football tonight!
Have a tip we should know? tips@mediaite.com