Salem Witches & Warlocks Perform 'Magical Intervention' To Stop Charlie Sheen From Demeaning Them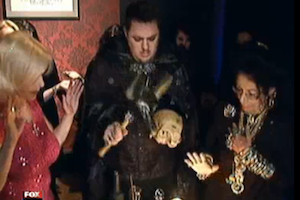 I know, I know! The instant I saw "Charlie Sheen" in the headline, my eyes started to gloss over too. However, this story is kind of awesome. A group of witches and warlocks in Salem, Massachusetts have held a "magical intervention" for the actor to get him to stop using terms like "warlock" in "foolishness and irreverence." Now, I don't believe in spells or any of that, but these people have gotten me to be interested in something involving Charlie Sheen and, if that isn't dark magic, I don't know what is.
Seriously, I can't get over how awesome the folks in this news report are. First, there's the fact that one of them has a great Boston accent (Message to Ben Affleck: if you make a "Southie Witch" movie, I will go see it). Second, there's the way the warlock looks straight into the camera to really hit the words "wise person." And, third and most importantly, there's the fact that the crew doesn't just perform a ritual to get him to stop demeaning their religion. They also do a spell to "heal him" because they want to heal those that bother them even more. That's pretty great.
Unfortunately, they can't complete the healing ritual unless they get into Sheen's house and rid it of the negative energies left by "drug users and drug addicts." Now, we all know how Sheen feels about interventions, but he should really consider taking them up on this because it would be amazing.
Until then, I'm going to now go back to not caring about Charlie Sheen, thank you very much.
Check out the video from Local Boston Fox 25 below:
Have a tip we should know? tips@mediaite.com