Sally Kohn Battles Fox Panelist Over SCOTUS Ruling: How Does My Right To Marry Affect You At All?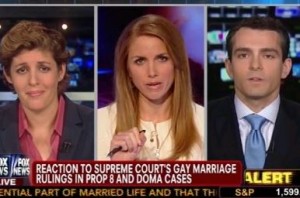 Fox News contributor Sally Kohn today reacted to the Supreme Court ruling that her partnership and the unions of many other people across the country deserve equal protection under the law. She said that this is the latest step in the United States' attempts over history in "striving towards making a more perfect union," adding that in the United States, you can't just pass a law "solely for the purpose of discriminating."
Kohn thought it was smart for the Supreme Court to lean on the states rights argument, which she said conservatives would be cheering had this been literally any other political issue. Fellow panelist Ryan Anderson found it contradictory that the Supreme Court would take make such a significant ruling for states rights in the DOMA case, yet dismissed the California Proposition 8 case in which the people actually voted to decide how to define marriage in their state. He argued that the government's business in getting involved in marriage is to promote marriages that can produce children, hence the definition of marriage being one man and one woman.
Kohn told Anderson that he can make "excuses" but the fact is laws passed just to discriminate are wrong. She also pointed out that the ruling is also significant due to the marriage benefits that gay couples can now get. Anderson shot back that the Supreme Court didn't exactly say that state bans against gay marriage are unconstitutional, and reaffirmed that the California ban "tells the truth about marriage." Kohn said, "I'm a little confused as to how my right to marry affects Ryan at all, unless we're getting married, Ryan."
Watch the video below, courtesy of Fox News:
—–
Follow Josh Feldman on Twitter: @feldmaniac
Have a tip we should know? tips@mediaite.com
Josh Feldman - Senior Editor