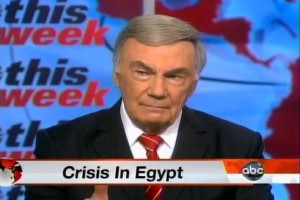 While Christiane Amanpour was away reporting in Egypt, former This Week host Jake Tapper got to play back home with the roundtable. During an informative discussion about the situation in Egypt and the various potential consequences with ABC's Sam Donaldson and Abderrahim Foukara, the Washington Bureau Chief of Al Jazeera International, Donaldson expressed his gratitude for all Al Jazeera has done.
Earlier Foukara stressed that Al Jazeera helped bring about the story of the Egyptian revolts to 300 million people in the Arab world and beyond. Donaldson commented:
"Talk about propaganda for Al-Jazeera. Thank you for what you're doing. People say Al Jazeera fanned the flames here by bringing the fact that democracy is in existence and that people are being suppressed. That's what we need. We need more communication in the world. It's not Al Jazeera's fault that Mubarak is under siege now."
ABC's George Will expressed doubt about Al Jazeera's influence, suggesting, "we in the media tend to think the media drives the world, and I have a feeling this would be going on across this region regardless of the media." Yet Donaldson continued, "the world drives the world, to the extent the world knows about what's happening everywhere else. That's what media does."
Given that the controversial Al Jazeera network is not widely available in the U.S. and has been criticized in the past for demonstrating an anti-American bias in its coverage, Donaldson's praise might raise an eyebrow. However, it's hard for anyone to argue with the simple idea that the free flow of information and an exposure to as many ideas as possible is itself a democratizing force that is beneficial to a society.
Watch the clip from ABC below:

Have a tip we should know? [email protected]
---