Samuel L. Jackson Scolds Anchor Who Thinks He's Laurence Fishburne: 'We Don't All Look Alike!'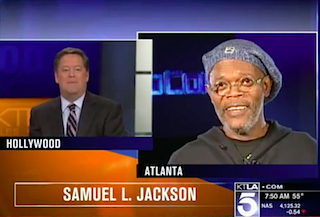 Samuel L. Jackson might be the last person you would want to insult on live television. But that's exactly what happened early in an interview the actor did on KTLA Los Angeles Monday morning, when anchor Sam Rubin apparently confused him with another accomplished African-American actor, Laurence Fishburne. Rather than let it slide, Jackson tore into the reporter, who was forced to apologize repeatedly for his "amateur mistake."
Before asking Jackson about the Robocop remake that he's currently starring in, Rubin wanted to know about his Super Bowl commercial. Things got awkward when Jackson asked, "What Super Bowl commercial?"
"My mistake," Rubin said after an awkward pause.
"You're as crazy as the people on Twitter!" Jackson shot back. "I'm not Laurence Fishburne." Rubin continued to backtrack, but Jackson kept at him. "We don't all look alike!" He wouldn't even let Rubin change the subject to Robocop.
"There's more than one black guy doing commercials. I'm the 'What's in your wallet?' black guy," Jackson explained. "He's the car black guy," he said of Fishburne's Kia commercial. "Morgan Freeman is the other credit card black guy. You only hear his voice though, so you probably won't confuse him with Laurence Fishburne."
He added, "I've actually never done a McDonald's or Kentucky Fried Chicken commercial. I know that's surprising." And things only got more awkward from there.
Watch the full segment below, via KTLA:
After a break Rubin issued another apology for his mistake, saying, "I'm really embarrassed about it and I very much apologize to Samuel L. Jackson and anyone else who was offended by this very amateur mistake."
Watch Rubin's apology below, via KTLA:
[h/t BuzzFeed]
[photo via screengrab]
— —
>> Follow Matt Wilstein (@TheMattWilstein) on Twitter
Have a tip we should know? tips@mediaite.com