Sandra Day O'Connor Expresses 'Great Disappointment' In Americans' View Of Supreme Court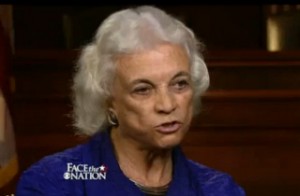 Former Supreme Court Justice Sandra Day O'Connor said in a Sunday interview that she is greatly disappointed in Americans' increasing disapproval of the highest court in the land.
CBS's Face the Nation host Bob Schieffer asked O'connor about recent surveys that indicate a decline in American respect for the Supreme Court. In response, O'Connor lamented: "In the past, when the public is asked about three branches of government, the judicial branch has had the highest respect. Now it's the same for all, it's all down."
"It's a great disappointment to me," she said.
O'Connor, who announced her retirement from the court in 2005, surmised that the court's 2000 Bush v. Gore decision might be to blame: "There's been some suggestion … that the trend down began with the Bush v. Gore decision," she said. "That could be something that triggered public re-examination."
Many believe O'Connor was the deciding fifth vote in that case's 5-4 vote that effectively handed the election to George W. Bush over Al Gore.
However, the first female on the court told Schieffer that she does not regret her vote: "It was a tough deal in a closely watched election. And it's no fun to be part of a group of decision makers who have to decide which side the ball is going to fall on."
When Schieffer asked the former justice how she might have voted on the recent health care decision, O'Connor responded "I don't know. I wouldn't tell you that if I knew." She also said that conservative Chief Justice John Roberts' switch to the liberal majority on the Affordable Care Act does not necessarily indicate a move to the center.
But O'Connor did openly criticize the court's controversial 2010 Citizens United v. FEC decision that helped affirmed corporate rights to political spending. Asked whether the resultant super PACs have harmed the American political system, O'Connor replied: "It hasn't helped. I'll put it that way."
Watch below, via CBS:
— —
>> Follow Andrew Kirell (@AndrewKirell) on Twitter
Have a tip we should know? tips@mediaite.com