Santelli Flips Out On WSJ Reporter: If You Ask The Fed 'A Tough Question' Will Your Access Be 'Impaired?'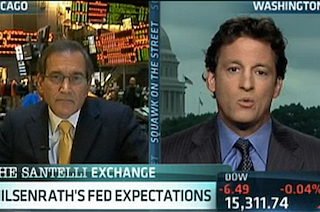 "There are the players, and then there are tailors," CNBC's Rick Santelli told Wall Street Journal economics correspondent Jon Hilsenrath. "The players are fed up."
By tailors, Santelli meant the economic press. He was extremely upset that the Fed is continuing with qualitative easing despite the gradually improving economy, and feels that reporters are not holding Federal Reserve Chairman Ben Bernanke's feet to the fire during his rare media appearances. Santelli challenged Hilsenrath to defend his cohorts who let Bernanke get away with economic murder.
"I'm a reporter," Hilsenrath said. "I'm trying to inform the public of what the Fed is up to. If people don't like what the Fed is up to, that's part of the process of my informing them."
Santelli accused Hilsenrath of acting as an "intermediary" for the Fed, translating their narrative for a mass audience rather than questioning their actions.
"Let's drop the pretense here," he said. "The reason your stories move the markets…is that the world at large does believe that you're sourced. That's the reality, and you can protest all you want."
"Well, of course I'm sourced," Hilsenrath said, genuinely confused as to how Santelli thought he could report on the Fed without the Fed being a source. "Every reporter should be."
Santelli directly challenged Hilsenrath to defend the Fed's actions, which he did.
"We have a horrible recovery, and as the central bank, they're asking what else can they do to get the economy going again," Hilsenrath said. "I think you have to ask the question: what's the downside? What's the risk? What damage could they be doing? A lot of people, including yourself, have said they could cause a lot of inflation. Well, show me the inflation."
Santelli yelled that the inflation was there, but hidden somehow behind a "Jurassic park electric fence." Hilsenrath didn't let him get away with that: "Part of me holding people accountable is holding people like you accountable, Rick."
Santelli brought the discussion back to the Fed. "If you ask a tough question to the Fed, I mean a tough question, do you think that your access or your ability to ask a question at next press conference would be impaired?" Hilsenrath chuckled at this, and Santelli screamed, "It's not funny! This is important!"
"I will give you this," Hilsenrath said. "These press conferences are very polite, you could argue they're too polite. I'm also frustrated by one aspect of them: it's difficult to ask the follow-up question. You get the microphone in hand, you ask the question, and then the microphone gets passed to the next guy. It would be nice if we had the opportunity to ask follow-up questions when we don't feel like we're getting the answers we want."
Hilsenrath also pointed out that thanks to the Fed's "obscure" nature, more of the media's questions focus on trying to "understand" what the institution's next move will be, rather than accountability for its past actions.
"I have one bit of advice," Santelli responded. "If they take your mic for the second question, just think about what I did twenty minutes ago. You don't need a mic. Use the vocal cords."
Watch the exchange here, via CNBC:
[h/t TV Newser]
—
>> Follow Evan McMurry (@evanmcmurry) on Twitter
Have a tip we should know? tips@mediaite.com