Santorum Adviser Calls Mitt Romney 'Barack Obama Lite,' Whacks Him Over Dog On Car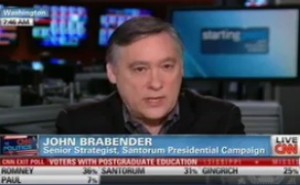 Riding high on victories in the Alabama and Mississippi Republican primaries, the Rick Santorum presidential campaign sent senior strategist John Brabender (who looks like he might, at any moment, glower and say "I have nipples, Greg. Could you milk me?") on to CNN's Starting Point to talk about his candidate's path to victory, and to take a few shots at former Massachusetts Gov. Mitt Romney, the delegate leader. Brabender called on conservatives to rally around Santorum rather than nominate "Barack Obama Lite," and threw in a gratuitous shot about Gov. Romney's infamous "dog-on-car" road trip.
Anchor Soledad O'Brien asked Brabender, "The polls were not in your favor, and I got a sense everybody was tamping down expectations leading up to these two races, and then you won. What happened?"
"Everybody thought Romney was going to win Mississippi," Brabender replied, "and everybody thought Gingrich was going to win Alabama, and Rick Santorum won both of them coming off the heels of Kansas on Saturday. It's an exciting time for the campaign. Rick Santorum said it best, a lot of average Americans are showing people the pollsters don't know as well as they do."
Brabender predicted that, if former Sen. Santorum could unite Tea Party and conservative voters behind him, he can pick up "massive delegate wins."
"Texas is a good example," he said. "Winner take all by congressional districts. So if you have a big night in Texas, you can get a whole mess of delegates."
He also laid out a second strategy whereby, if Mitt Romney fails to accumulate the necessary 1144 delegates, Sen. Santorum could go into the convention in Tampa with momentum, and pick up enough unbound delegates to win the nomination in a second ballot at the convention.
"All of that depends on Newt Gingrich getting out of the race," Soledad pointed out, "which sounds incrediby unlikely. Every single time he's asked, he sounds more enthusiastic about staying in until Tampa."
Asked if his candidate would be satisfied with merely denying Mitt Romney the nomination, Brabender said "He's not running to be the conservative alternative for Mitt Romney, but to Barack Obama.
Citing Romney's support for health insurance mandates and the Wall Street bailouts, Brabender added "The belief among conservatives is we're not going to beat Barack Obama by putting up Barack Obama light, and so there is a real path that says if conseratives and Tea Party supporters decide that we are now going to unite behind one candidate, not only will he be the nominee, but I strongly believe he will beat Barack Obama."
Responding to Mitt Romney's comment that the Santorum campaign is "desperate," Brabender pointed out the huge amounts of money Romney has spent to gain and maintain his third of the Republican primary electorate, then added, "Quite frankly, I'm not sure i'm going to listen to a value judgment of a guy who strapped his dog on the top of a car and went barreling down the highway."
Damn, you strap your dog to the roof of your car for a thousand-mile road trip one time, and they never let you forget it!
The Santorum campaign certainly has reason to celebrate this morning, and while the Romney campaign has a delegate lead and money on its side, the mounting sums that Romney has to spend to secure these meager victories and unexpected losses seriously undercuts his case as the man who can beat President Obama.
Have a look, via CNN's Starting Point:
Have a tip we should know? tips@mediaite.com