Santorum Doubles Down: Obama Admin 'Putting Children At Risk' By Not Prosecuting Pornographers
Santorum Doubles Down On Porn Remark: Obama Admin 'Putting Children At Risk'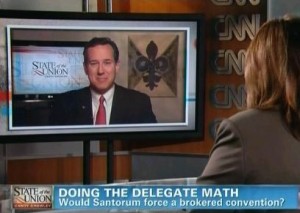 Because this election is in no way about the economy, we've been spending a lot of time discussing and debating abortion, contraception, and other big social issues. But now one of Rick Santorum's more controversial policy positions is making its way to the forefront of national conversation: his pledge to crack down on pornography. On CNN's State of the Union earlier today, Candy Crowley brought up Santorum's charge that President Obama and the Department of Justice are not enforcing the law when it comes to illegal pornography.
RELATED: Santorum: Obama Admin 'Seems To Favor Pornographers Over Children And Families'
Crowley read Santorum's comment that the Obama administration "seems to favor pornographers over children and families," and asked Santorum if he honestly believed that's where the president's priorities are at. Santorum said that "the proof is in the prosecution" and argued that pornographers were more heavily prosecuted than under Obama.
"My conclusion is that they have not put a priority on prosecuting these cases, and in doing so, they are exposing children to a tremendous amount of harm. And that, to me, says that they're putting the unenforcement of this law… and they're putting children at risk as a result of that."
Interestingly enough, some people in the porn industry have actually responded to Santorum's comments. Steven Hirsch, the founder of Vivid Entertainment, said that "it doesn't work" when government tries to "legislate morality." Porn star Joanna Angel said Santorum's comments were "infuriating," while Ryan Keely suspected that Santorum is just trying to "excite his conservative base" and the porn industry will not be "shut down."
RELATED: The Five Agrees With Rick Santorum That Porn Is Scary And Evil
So if you're keeping track, we're now at the point in the campaign where porn stars are now weighing in on policy issues. It brings a tear to your eye, doesn't it?
Watch the video below, courtesy of CNN:
Have a tip we should know? tips@mediaite.com
Josh Feldman - Senior Editor