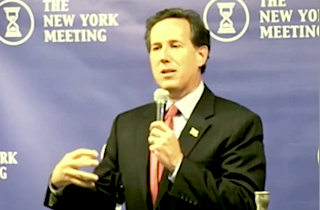 At the height of a debate in Congress over raising the minimum wage, former Republican senator and presidential candidate Rick Santorum said this week that he's "not sure" that the GOP cares about the poor in this country as much as their Democratic counterparts do.
The comment came during a talk Santorum gave at an event sponsored by The New York Meeting, a conservative group in New York City, to promote his new book, Blue Collar Conservatives
. Answering a question about the idea of altering the earned income tax credit as an alternative to raising the minimum wage, Santorum spoke out about the "importance of work" in America, with some detours through his problems with the Affordable Care Act and the "dangerous" co-habitating relationships of single mothers.
Eventually, Santorum arrived at the point that "we" — meaning conservatives — don't talk about these issues enough. "Well, people ask me if Republicans care as much about the poor as Democrats do. I'm not sure we do," he said. "I'm not sure we do, and the reason I'm not sure we do is because I don't hear us talking about them very often and if you really cared you'd talk about the problems they had."
If there is one Republican who has been particularly reluctant to talk about the poor it's Rick Santorum, who, on multiple occasions, has resisted even acknowledging the existence of "class" in this country. During the 2012 campaign, he attempted to differentiate himself from opponent Mitt Romney by saying, "There are no classes in America."
By 2013, he was furthering this line of thought with a speech in Iowa. "Since when in America do we have classes?" Santorum asked. "Since when in America are people stuck in areas or defined places called a class? That's Marxism talk."
Watch video below:
[h/t Daily Mail]
[Photo via screengrab]
— —
>> Follow Matt Wilstein (@TheMattWilstein) on Twitter
Have a tip we should know? tips@mediaite.com