Santorum Laughs Off Libertarian Critics During Heated Clash with The Independents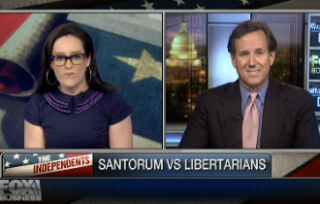 In case you missed it: Rick Santorum appeared on The Independents on Thursday evening.
The former GOP senator doesn't like the libertarian insurgency among young voters; he's been quite clear about it in recent months. And so if you were to guess that his time with FBN's libertarian show was a heated, frothy mess of moralistic posturing, then you would be correct.

I won't spend too much time dissecting the 10-minute-long debate, because you should really just watch it and enjoy. But some highlights:
Santorum explained his aversion to libertarians: While they may have a lot in common with conservatives, "they also have a lot in common with liberals." Quelle horreur! Libertarian ideas, he added, "work in theory, but not in practice." He then suggested — with a straight face, of course — that conservatism works, and libertarians ought to learn from them. (More on Santorum's "conservatism" here.)
Kennedy pulls out a previous quote in which Santorum suggests it's government's responsibility to fix the holes in Americans' metaphorical leaky boats. With a straight face, she asks him: "Would you use government to plug my hole?"
Santorum suggests that we've been interpreting "the pursuit of happiness" all wrong: "True happiness — not pleasure and enjoyment, as we see happiness today — but doing what you ought to do, doing what … God had oriented you to do. In other words, doing the right thing, not doing whatever you wanted to do." He added that government's duty is to protect your ability to do what you ought to do — i.e., what Santorum finds virtuous. Reveals a lot, if you haven't already gathered where he comes from, philosophically.
After being confronted for his belief that government ought to involve itself in cultural issues, Santorum scoffed at the concept of young voter outreach and the fact that libertarian-leaning Sen. Rand Paul (R-KY) received a standing ovation from students at Berkeley for his positions on civil liberties. "My point exactly," he laughed, adding that he would hope no one wanted to listen to the '60s generation of young people for what the future should look like.
Perhaps the best moment came after Santorum gave a long-winded defense of the need to promote (via government, of course) anti-abortion policies and the traditional family unit. A natural mother and a natural father must raise children, he said, after dismissing the notion of gay couples adopting children. Kennedy spotted a contradiction there: "Sometimes you can't have it both ways. You can't have children who are naturally raised in their home, sometimes kids are put up for their adoption. You can't be against [gay] adoption, and against abortion, and against gay marriage, and claim that your views are consistent."
Watch the full segment below, via FBN:
[Image via screengrab]
— —
>> Follow Andrew Kirell (@AndrewKirell) on Twitter
Have a tip we should know? tips@mediaite.com