Santorum Reacts To Cantor's Endorsement Of Romney: He's A 'Good Guy, But Factually Wrong'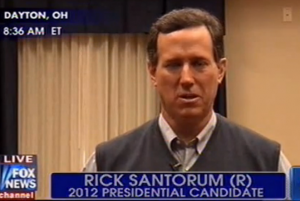 On the eve of Super Tuesday, Rick Santorum joined the Fox and Friends crew to talk about his campaigning in Ohio. He also commented on House Majority Leader Eric Cantor's endorsement of Mitt Romney, elaborating on how Romney's economic plan simply wouldn't accomplish anything.
Keeping to his usual talking points, Santorum mentioned Romney's health care plan in Massachusetts and his support for President Obama's plan. He then went on to address the ballot issue his campaign has encountered in Ohio: due to eligibility requirements, he may not be counted in several congressional districts in the state. Santorum quickly dismissed this as a significant problem:
We were able to get on most of the ballots. But we're not this big of an organization that can spend endless amounts of money to get on ballots that early on in the campaign. […] Although we're on the statewide ballot and on the vast majority of the congressional districts, and I think the number of delegates here is inconsequential in the grand scheme of things.
Santorum then reacted to Cantor's endorsement (wherein he said Romney's economic plan was better). Cantor is "a good guy," Santorum said, "but factually wrong":
Eric is a good guy, he's a leader in Congress. He's used to tinkering around on the edges. That's what Congress does. […] Governor Romney's plan is not big, it's not bold. It's anything but transformational. He only proposes half a trillion dollars in spending reductions. I mean, even President Obama has been able to come up with that much. We need somebody who, like I have, I proposed $5 trillion in cuts.
Ah yes, the good old comparison to Obama.
Have a look, via Fox News:
Have a tip we should know? tips@mediaite.com