Santorum Responds To 'Bullsh*t' Outburst On CNN: Romney Campaign 'Fed The Line To All The Reporters'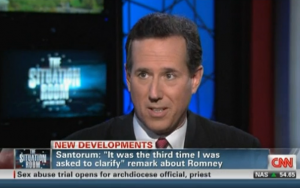 Rick Santorum's interview with CNN's Wolf Blitzer on Monday gave the GOP hopeful a chance to address his outburst at The New York Times' Jeff Zeleny. Santorum reiterated that a conservative who hasn't had a confrontation with the NYT isn't "worth their salt" — and went further, contending that Mitt Romney's campaign "fed the line to all the reporters."
Blitzer played the clip during which Santorum made the "worst Republican" remark, followed by the clip of the outburst (during which Santorum smiled and nodded, watching himself yell at Zeleny). Santorum stressed he made the original remark in the context of the health care issue, and told Blitzer:
I was asked that question. I was asked it again. And then he comes over and he says, "So Mitt Romney is the worst Republican in the country." That's what he said. Listen to his words. And I think, what speech did you listen to? I mean, I was talking about ObamaCare, RomneyCare and the fact that, as I said, that Governor Romney is uniquely disqualified to make the case.

Why? Because he wrote the blueprint for ObamaCare. And to then say, you know, spin this as Rick Santorum said he's the worst Republican in the country, this is — this is — this is the kind of stuff that we've been seeing from the Romney spin machine, their press secretary was back in that — back in the back of the room, out there feeding lines to the national press…
After a bit of back-and-forth about whether Zeleny asked the question in context, Blitzer brought up the Romney campaign's response, in which the Republican frontrunner questioned Santorum's temper.
Santorum replied, "Any good conservative who hasn't had a flare-up with The New York Times isn't worth their salt." Blitzer added, "But you know Jeff Zeleny," and said he's a good reporter. Simply, Santorum said, "I don't know Jeff Zeleny." He's "a very serious, strong political reporter," Blitzer said. "He's not like a hack."
"But what he said was not anywhere consistent with what I said," argued Santorum. Then Blitzer pressed further, quoting the following comment from the Romney campaign: "In the final stages of this campaign, Rick Santorum is lashing out with desperate and flailing attacks, and now he is in full panic mode. His behavior is sad to watch."
Citing the Louisiana primary, which he won by a wide margin, Santorum said "this is all the Romney campaign can do, is send people to my speeches." Blitzer said they didn't send Zeleny, but Santorum continued on:
They sent a Romney person to our speech, he fed the line to all the reporters. We saw it happening. And everybody in that — everybody in that room, even the reporters said, oh, yes, we understood what you meant. But, you know, the Romney people said this to us, so we had to ask you about it. That's what happened.
Take a look, via CNN:

Have a tip we should know? tips@mediaite.com