Santorum Scolds Media On Hannity For Bringing Up Contraception: 'That's Not The Issue'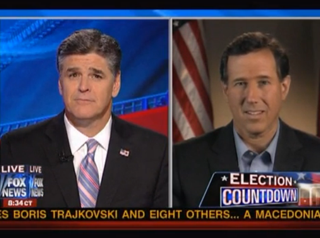 An hour after Mitt Romney hit Fox News for his post-Arizona/Michigan take on the Republican primary, an optimistic Rick Santorum visited Sean Hannity to discuss his popular vote loss in Michigan and how he broke even in delegates. Santorum also had to explain some of his comments over the weekend, particularly his attack on John F. Kennedy, and took a step away from social issues to blame the media for bringing them up.
RELATED: Mitt Romney Attacks SuperPACs, Credits Them For 'Toughening Us Up'
Santorum noted that he considered his performance in Michigan a victory. "We were outspent 6-1 in Governor Romney's home state," he told Hannity, "you give me a 6-1 advantage in Pennsylvania and, trust me, he won't come out 50-50, we're going to smoke him." He also argued momentum was on his side, as he was winning in swing states while Romney struggled with them.
Hannity also brought up several comments Santorum made over the weekend– particularly his attack on Kennedy– and asked him whether he found them problematic or if they "might have narrowed rather than widened your appeal." Santorum admitted he wasn't perfect, that speaking off the cuff, "you're going to say things that you'll think, 'uh, maybe I should've used a different term,'" but he believed that the core of his argument was strong, that "what's really at stake in this country, that is freedom." With the Kennedy comment, he noted the topic was "the Obama Administration forcing its role on people of faith." "Yes, I do get fired up," he concluded, "and sometimes I say things that are a little strong, [but] people out here are upset."
Hannity also asked him about social issues– namely, whether he saw himself pigeonholed as the "social issues" candidate and what response he had to that. Santorum replied that he often spoke of the economy, of "repealing Obamacare," that he brought "my piece of shale from North Dakota at every speech." "The media is going to do what they do," he noted, recalling the crowd at the last debate booing a question on contraception. "They booed because that's not the issue," he concluded.
The segment via Fox News below:

Have a tip we should know? tips@mediaite.com