Santorum Staffer: Obama's Energy Decisions Determined By His 'Radical Islamic Policies'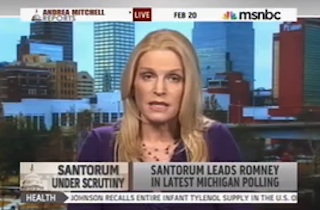 Man, fans of Rick Santorum just don't have good luck when they go on Andrea Mitchell's show. Less than a week after Foster Friess' unfortunate stand-up routine, Alice Stewart, the National Press Secretary of Santorum's campaign, had what we're assuming was a slip up on the show when she blamed President Obama's energy decisions on his "radical Islamic policies."
Stewart was on the show to discuss the scrutiny that Santorum is now under as a potential GOP frontrunner. Mitchell asked her why Santorum tried to frame his differences with the President as a difference in values, specifically in comments that had been pointed out by Robert Gibbs. This was her response:
"[Santorum] wasn't questioning the President's character. He wasn't questioning the President's religion. As he said, he clarified the statement, he was talking about radical environmentalists. There is a type of theological secularism when it comes to the global warmists of the country. That's what he was referring to. He was referring to the President's policies in terms of the radical Islamic policies the President has specifically in terms of energy exploration. Case in point, the Keystone Pipeline."
RELATED: Newt Gingrich Attacks President Obama's Energy Policy: 'You Cannot Put A Gun Rack In A Volt'
Shortly after, Stewart called into the show to explain that that wasn't what she meant. However, that wasn't the end of it. To make matters worse, News Nation, which came on the air next, devoted an entire panel to questioning whether Stewart made an honest mistake or not.
We're going to assume that she did. Here's how I think it happened. Just this past weekend, the New York Times Magazine published a lengthy article about the way the brain breaks down difficult tasks into easily repeatable habit packs so that you can do them over and over again without expanding too much brain power, using as examples a rat in a maze and a person learning how to back a car out of a driveway.
People who work for the campaigns of the GOP candidates have to trash President Obama a lot. It only makes sense that their brains would package it into easy habits filled with buzzwords like "socialist" and "radical Islam" even if they have absolutely no connection to the conversation at hand. Stewart probably wasn't attempting some kind of deceptive fear-mongering. She was just a political rat stuck in a campaign maze and trying to get to the White House cheese.
Watch the clips from MSNBC below:
As it aired:
Comment and Correction:

NewsNation Panel:

Have a tip we should know? tips@mediaite.com