Santorum Tells Fox News 'No Question' He Will Win In Pennsylvania, But Polls Show A Different Story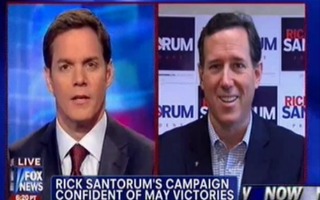 Former Pennsylvania Sen. Rick Santorum appeared on Fox News Channel on Monday to tell America's Newsroom host Bill Hemmer that he was certain he could secure a primary victory when his home state of Pennsylvania votes in three weeks. However, the recent polls of the state suggest that the momentum may be shifting away from the former senator.
RELATED: Santorum Campaign Disputes 'Obamaville' Ad Tied Obama To Ahmadinejad Subliminally
Hemmer asked Santorum if he could "guarantee a victory in his home state." Santorum responded with an emphatic "absolutely."
"We feel very, very comfortable that the people there in the Republican primary know us," said Santorum. He did, however, show some hesitation about the strength of his prospects in the Keystone State. "It's a tough state," said Santorum. "There is a large moderate wing of the party, particularly on the Southeast – Eastern part of the state."
Santorum went on to tout the successes he has had historically as a two-term Senator from the light blue Northeastern state. "We've upset the applecart there in Pennsylvania," Santorum said. "We were the first conservative to really break the stranglehold of the Republican party, and we were part of the movement to change the Republican party of Pennsylvania to a much more conservative party – and we've been successful winning elections doing that."
Hemmer pressed Santorum on his claim to guarantee victory and the former senator responded confidently "no question about it."
While Santorum appears confident, polls of the Keystone State show the potential for an upset by former Massachusetts Gov. Mitt Romney may be in the making. While Santorum maintained a comfortable lead in his home state for weeks, recent surveys have shown Santorum's lead over Romney narrowing. The last survey of the state, taken from March 20 to 25 via local pollster Franklin & Marshal, show Santorum's lead cut down 2 points over Mitt Romney at 30 to 28 percent – well within the poll's +/- 4.2 percent margin of error.
If Romney manages a trifecta of victories in Tuesday's primaries in Maryland, the District of Columbia and Wisconsin, as now appears likely, the wind will be at his back heading into April 24 when a flurry of Northeastern states hold their primaries. Santorum will have to contend with three weeks of particularly unflattering news about his campaign's chances to secure the nomination. That narrative could also depress Santorum's most stalwart Keystone State supporters.
Some political analysts have suggested that Santorum's campaign can rebound in May, when several states with large populations of conservative voters will hold Republican primaries. However, Santorum's campaign needs to secure a victory in his home state first (the senator himself has acknowledged that Pennsylvania is a "must win" state for his campaign). If Santorum fails to win in there, he forfeits a critical component to the argument that he is more electable than former Gov. Romney.
Watch Santorum predict victory in Pennsylvania below via Fox News Channel:
h/t The Hill
Have a tip we should know? tips@mediaite.com