Santorum Tells Van Susteren He Gave Trump A Piece Of His Mind After 'Stewing' Over Attacks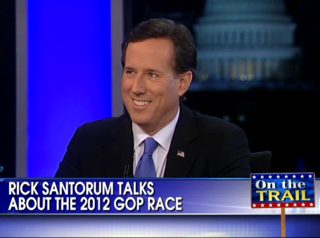 A few days ago on On the Record, newly minted Mitt Romney surrogate Donald Trump told host Greta Van Susteren that he could barely believe a loser like Rick Santorum was running for president, colorfully adding "give me a break!" to the fact that someone who lost his Senate seat so decisively thinks he can beat President Obama. Being a proactive sort, Santorum told Van Susteren last night that he reacted by picking up the phone and calling Trump directly, and asking for an explanation.
RELATED: Donald Trump Blasts Santorum As A Loser: 'He Wants To Be President? Give Me A Break'
Van Susteren goaded Santorum a bit noting that Trump "took a swipe at you," but added that after a while "he chilled out on you." Santorum then told the story of what happened after that conversation. "I was just stewing about it, and I finally just picked up the phone and called him," he told Van Susteren, "To his credit, he called me right back." Santorum then made his case. "I said, 'Donald, did you ever fail at anything? When you did, did they give you another chance, or did they say, you failed once, you're done?'" Santorum added that Trump had failed "many times" but "he's doing pretty well right now." Trump did respond that he considered it a good point, according to Santorum, but that he was concerned about Santorum talking about social issues too much. "I said, 'The only reason I talk about social issues on this campaign right now is I talk about the importance of families in our economy, that when families are broken, it's harder for them to do well economically.'"
"He may not remember that conversation. I remember it very well," Santorum concluded. There will be some waiting to do to see whether the conversation thawed Trump a bit toward Santorum, even if he endorsed Romney, though if the national polls out today are any indication, Trump will have to defend his candidate harder than ever.
The clip via Fox News below:

Have a tip we should know? tips@mediaite.com