Santorum Tells Romney He Doesn't Know What He's Talking About In Earmark Scuffle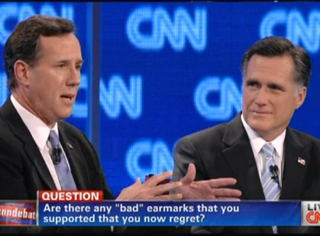 Rick Santorum may have responded mildly to Rep. Ron Paul calling him a flat-out "fake" at the beginning of tonight's CNN debate, but he did not take attacks from Mitt Romney similarly, challenging him on the subject of earmarks and telling him that, having not been in Congress, he didn't "know what he was talking about" when attacking Santorum for making Congress spend so much more money on earmarks.
RELATED: Ron Paul Slaps Down Santorum's Defense After Being Called A Fake As A 'Cop Out'
"You're allowed to your own opinions, but you're not entitled to your own facts!" Santorum told Romney after the latter scolded him significantly for his use of earmarks while in Congress. The debate stuck mostly to policy positions and the history of what Santorum did in Congress with few personal attacks and much crosstalk– Romney and Santorum's agreement on accepting the line-item veto being perhaps the most indicative of how substantive the debate was. Santorum did also take a backhanded swipe at Rep. Paul, calling him "one of the most prolific earmarkers in Congress today," before qualifying that as not necessarily a compliment.
Newt Gingrich made his first strong showing in the debate, explaining that earmarks are not necessarily bad because "if you have Barack Obama as President and you have a Republican House, you may want to the House imposing some things on the President." He also went into a pronoun minefield over the other three candidates attacking each other for doing precisely what they all do on this topic, one the other candidates followed with some difficulty.
The segment via CNN below:

Have a tip we should know? tips@mediaite.com