Santorum to Colbert: Marriage Has 'Devolved' Into 'Just a Romantic Relationship Between Two People'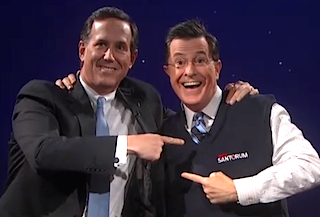 Former Pennsylvania senator and 2012 Republican presidential nominee Rick Santorum was Stephen Colbert's guest on The Colbert Report Tuesday night. And while the pair touched on a lot of topics during the interview, the bulk of the conversation was dedicated to Santorum's continued crusade against same-sex marriage.
While some of his fellow Republicans have followed the country towards greater acceptance of the LGBT community, Santorum maintains that the institution of marriage has "devolved" into nothing more than "a romantic relationship between two people."
Speaking out against Republicans who he sees as "abandoning" social issues, Santorum said one of the best ways for the GOP to reach minority communities in to find common ground on "biblical principles." This led Colbert, who earlier in the interview gamely strapped on a signature Santorum sweater vest, to bring up the issue of gay marriage.
"We're losing this one, aren't we?" Colbert asked, noting there are now 15 states plus the District of Columbia that are "'riding the rainbow train to hell town."
Rather than the gay marriage issue "slipping away" from Republicans, Santorum argued that marriage has "slipped away" from conservatives. "Marriage has devolved into just a romantic relationship between two people and that's not what marriage is," he said. "Heterosexuals have lost the definition of marriage and so it's not surprising that other people want to see — 'well, this is what marriage is today and so we should be involved in that.'"
Instead, Santorum wants to "reclaim the institution as a man and a woman coming together to have children and raise them in a way that continues society."
Colbert had another idea, proposing conservatives "cut bait" on marriage and let the new definition take over. "Gays, you can have marriage," he said. "Because at this point, marriage seems kind of gay." The host then brought up Santorum's infamous "man on dog, man on child" comments regarding gay marriage, which his guest said were taken out of context.
With Santorum stressing the importance of children to marriage, Colbert said, "I've heard some disturbing news that gay people have children. I've heard some places they can even adopt children."
"Here's what I would say to that," Santorum answered. "Every child has the right to their natural mother and father. Every child has a natural mother and father and they have a right to that mother and father to give them what only a mother and only a father can give."
"What if they don't have a mother or a father? Wouldn't it be better for them to have no parents than to be loved by two gay people?" Colbert asked in return.
"The point of the law is to encourage what is best," Santorum insists, "to set a standard for what is best, not to set a standard short of what is best, because when you do that you get less of what is necessary."
Earlier in the interview, Santorum, who is currently running a Christian movie studio, said he is undecided about running for president again in 2016. If he does decide to run, and the trend of gay marriage acceptance continues at its current rate, Santorum will likely fall even further behind public opinion than he does today.
Watch video below, via Comedy Central:
[photo via screengrab]
— —
>> Follow Matt Wilstein (@TheMattWilstein) on Twitter
Have a tip we should know? [email protected]