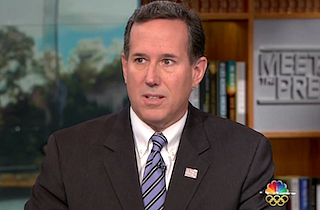 2012 presidential candidate Rick Santorum told David Gregory on Meet the Press Sunday morning that Senator Ted Cruz (R-TX) did more harm than good in his effort to defund the Affordable Care Act, which led to a government shutdown that significantly damaged the Republican Party's approval rating.
"I would say in the end he did more harm," Santorum said. "I think it was not his objective. I think his objective was a laudible one. I think he didn't do a very good job and pointed it out. I think it's one thing to have a goal and another thing to have a plan to get you to that goal."
Gregory asked Santorum if he thought Cruz was the new face of the conservative movement.
"There isn't a leader in the Republican Party right now," Santorum said. "That's part of the problem, that's part of the mess and the confusion. But that's always the way it is with a party out of power. You have lots of different faces, and those faces, as we've seen, they come and they go."
"He is the face of the Republican Party," Republican strategist Alex Castellanos said. "He continues to make us the 'party of no.' When the house is burning down, you don't want a critic, you want somebody to actually put out the fire and get this economy going again. To be determined if he grows."
Watch the full clip below, via NBC News:
[Image via screengrab]
——
>> Follow Evan McMurry (@evanmcmurry) on Twitter
Have a tip we should know? tips@mediaite.com