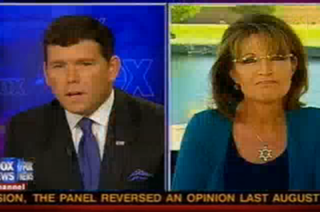 On such a big weekend for D.C. media, Sarah Palin has kept relatively mum, her public appearances constrained to an interview with Bret Baier yesterday on Fox. But she probably got about a weekend's worth of soundbites in twenty minutes, refusing to confirm whether, as president, she would end subsidies to oil companies, saying "hells no" to raising the debt ceiling, and calling finance shenanigans on the Obama 2008 campaign.
Beginning the interview discussing the oil subsidies, Palin argued that the subsidies were "only" $4 billion, compared to the $14 trillion debt "which our President is contributing to." What's more, the big oil companies, according to Palin, don't get much of that money– "it's the independent explorers with their entrepreneurial spirits and their manpower" that benefit. Baier pushed back: "you concede that it is a powerful political point: Exxon reported 69% increase in first quarter earnings," he explained, "but if on top you make subsidies," it is a sizable amount of money. Palin relented, stating "you have no idea how large an entity these oil companies are," but not stating, despite being asked several times, whether she would definitively end subsidies. Instead, she noted that President Obama "doesn't know what he's doing when it comes to energy," although Baier mentioned that Rep. Paul Ryan's budget called for a cut in subsidies, too.
Of the debt ceiling, Palin's answer to raising it was a simple "hells [sic] no," adding "if a state wants to do something a little bit special… let that state figure out how they're going to pay for it." In the interview potpourri, Palin also stated she was "undecided" on running in 2012, which led to Baier awkwardly asking her about several potential candidates, as she is paid by Fox News to comment on such things. Overall, she "appreciated" each of their endeavors and hoped the "elites" did not deter anyone from running, or cause any legal problems. Asked if she was specifically referring to the 2008 Obama campaign, Palin took the last few moments of the interview to go out with a bang: Obama's financial house, she suggested, was not in order, and "credit card contributions under fake names" and "addresses that weren't real addresses in the United States" were found among the donors.
The segment via Fox News below:

Have a tip we should know? tips@mediaite.com