Sarah Palin: Americans Must "Learn From (Reagan's) Mistakes" On Illegal Immigration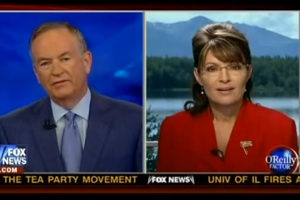 Sarah Palin made an appearance on The O'Reilly Factor last night to test her mettle on one of the biggest issues in the political sphere today: illegal immigrants. Bill O'Reilly grilled her on specifics to finding a solution to the problem and, in her responses, Palin made it very clear that immigration may be the one substantive issue around which she has a tight grip.
Palin was adamant that illegal immigrants should not be "rewarded the bad behavior" and continued along in this vein until O'Reilly stopped her, in a very similar manner to how he stopped Univisión anchor Jorge Ramos in a debate earlier this week, and asked for concrete reactions to the problem. Palin responded that she would like all illegal immigrants to register and that, in an ideal situation, "you deport them. you have to get them out of here."
O'Reilly, of course, pointed out the obvious, that this wasn't an ideal situation, and some path to amnesty was necessary because of the sheer number of people involved. "It makes me uncomfortable that we're even going to go down that path… American citizens who are in here lawfully are the ones who should get the first shot," she responded, and again O'Reilly stopped her from making generalities, noting how complicated the situation is. She agreed to a path to citizenship:
"We won't complicate it any more. Let's keep it simple and let's say, 'No, if you are here illegally and you don't follow the steps that at some point through immigration reform we're going to be able to provide, and that is to somehow allow you to work. If you're not going to do that, you will be deported you will be gone."
Palin then tried to harken back to the days of Ronald Reagan— who was in favor of amnesty– and O'Reilly once again challenged her. "He botched it," O'Reilly told her. Surprisingly to some, she agreed.
Last night's segment below:

Have a tip we should know? tips@mediaite.com