Sarah Palin Calls KTVA Crew 'Corrupt Bastards' For Accidental Joe Miller Phone Message (UPDATE)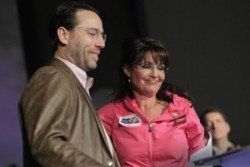 One lesson sure to be learned from this year's midterms is that it's important to make sure you have properly hung up your phone. Yesterday members of KTVA a CBS affiliate crew (Update: CBS clarifies that KTVA is not an affiliate: "KTVA News is owned by the Alaska Broadcasting Co., not CBS. No CBS staffers were involved and CBS has no knowledge of and no comment on these allegations.") in Alaska were accidentally caught on a answering machine discussing finding negative stories about Joe Miller to cover in the final days of his campaign. A transcript and audio of the message was posted on Miller's site.
FEMALE REPORTER: That's up to you because you're the expert, but that's what I would do…I'd wait until you see who showed up because that indicates we already know something…
[Laughter] [INAUDIBLE]
FEMALE REPORTER: Child molesters… MALE REPORTER: Oh yeah… can you repeat Joe Miller's…uh… list of people, campaign
workers, which one's the molester? [INAUDIBLE]
FEMALE VOICE: We know that out of all the people that will show up tonight, at least one of them will be a registered sex offender.
[Laughter] MALE REPORTER: You have to find that one person… [INAUDIBLE]
FEMALE REPORTER: And the one thing we can do is ….we won't know….we won't know but if there is any sort of chaos whatsoever we can put out a twitter/facebook alert: saying what the… 'Hey Joe Miller punched at rally.'
FEMALE REPORTER: Kinda like Rand Paul…I like that.
[Laughter] FEMALE REPORTER: That's a good one.
According to the Daily Caller "assignment editor Nick McDermott texted an apology after realizing he left a voicemail: 'Damn iPhone … I left you a long message. I thought I hung up. Sorry.'" But there's been no further response from KTVA.
The same cannot be said for Miller supporter Sarah Palin who tweeted earlier this morning that the CBS crew were "corrupt bastards." Twice.
Meanwhile, despite Palin's Rahm-like support Miller has sunk so far and so fast in the polls this past week that the GOP is reportedly abandoning him in favor of write-in candidate Lisa Murkowski.

Have a tip we should know? tips@mediaite.com