Palin: Condoleezza Rice Would Be Good VP Choice For Romney, Despite Being 'Moderately Pro-Choice'
Palin: Condoleezza Rice Good VP Pick Despite Being 'Moderately Pro-Choice'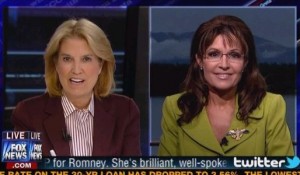 Sarah Palin sat down with Greta van Susteren today for a wide-ranging interview that first hit upon Palin's reaction to Condoleezza Rice being touted as a top contender for Mitt Romney's vice presidential nominee on The Drudge Report. Palin said she thinks Rice would be a great choice, but admitted that Rice's "moderately pro-choice" views would be a problem for conservatives who would prefer Romney choose a pro-life nominee.
RELATED: Sarah Palin Blames Media 'Manipulation' For Romney's Polling, Warns Voters Are 'Wiser' This Time
Van Susteren asked Palin for her reaction to the speculation. Palin admitted she thinks Rice would be a good choice, and argued she has a more thorough background than President Obama. However, when Van Susteren pointed out that Rice was "moderately pro-choice," Palin expressed a few minor reservations.
"I would certainly prefer a presidential and vice presidential candidate who had that respect for all innocent, precious, purposeful human life, and showed that respect by being a pro-life candidate. We need to remember, though, that it's not the vice president that would legislate abortion, that would be Congress' role, and we will keep that in mind."
Van Susteren acknowledged that despite the Drudge report, no one has any idea if the information about Rice is accurate or not, and said there is a certain "silliness" to the whole thing. Palin said that journalists "are always looking for something to talk about," so of course this story would get airtime.
After spending a few minutes ripping into an Energy Department executive who said Solyndra was "an enormous success," Palin weighed in on Romney's speech to the NAACP yesterday. Palin thought that Romney got a very positive reception from a "respectful audience" despite "a smattering of boos." Susteren brought up recent claims that Romney may have wanted to get booed by the NAACP, and Palin said that if Romney had not gone to the convention, he would have been branded a racist.
RELATED: O'Reilly Battles With NAACP Executive Over Whether Romney Deliberately Wanted To Get Booed
The interview ended with Palin agreeing with the Romney campaign to demand that the Obama campaign apologize for a staffer suggesting Romney either lied or could have committed a felony regarding his leadership role at Bain Capital. She told the Romney campaign not to hold back in defending their candidate's record.
Watch the full interview below, courtesy of Fox News:
—–
Follow Josh Feldman on Twitter: @feldmaniac
Have a tip we should know? tips@mediaite.com
Josh Feldman - Senior Editor