Sarah Palin Defends Gingrich: Establishment Fears Him Because He Leads 'Rage Against The Machine'
Palin On Gingrich: Establishment Fears Him Because He Leads 'Rage Against The Machine'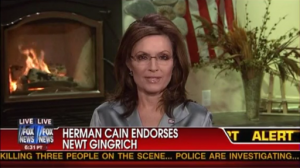 Last night, Herman Cain officially threw his support behind Newt Gingrich. Fox News covered the breaking news, and Sarah Palin was on to not just react to the endorsement, but to explain her Facebook post that Ronald Reagan would be "ashamed" of how Republicans are acting, and to defend Newt Gingrich against the attacks being leveled against him by Mitt Romney and other Republicans.
Judge Jeanine Pirro asked Palin to explain what she meant in her remark about the late Republican president. Palin noted that Reagan was never one to shy away from criticizing other Republicans, but she argued the former president never engaged in "the politics of personal destruction" that she believes has engulfed much of the 2012 campaign. She credited Gingrich with being the first to pledge to take the high road, but because of the "negative, rewritten history" being thrown out there against him, she said it makes sense for Gingrich to hit back. She also called out the Republican establishment for lining up against Gingrich in a concerted effort to keep him from winning the nomination.
RELATED: Sarah Palin Blasts 'Dumb Arse' Media Over Gingrich 'Open Marriage' Coverage
However, Palin thought it better for the vetting process to be carried out this early on between the candidates so that by the time the eventual nominee faces President Obama, there will be no "October surprise" to deal with. She also bucked conventional wisdom by suggesting the race will continue on beyond Florida, and said the media should put more focus on Rick Santorum and Ron Paul, the latter of whom she gave some words of praise for.
Despite his many years of service in Washington, Palin argued he was the outsider candidate because of how mobilized the establishment has been against him. She admitted she'd rather have a candidate who will "rage against the machine" as opposed to one who won't challenge the status quo. "If for no other reason, rage against the machine, vote Newt. Annoy a liberal, vote Newt."
But what about Gingrich's ambition to establish a colony on the moon? Palin ardently supported it, connecting his statement to JFK's call for space exploration decades ago. And as a fiscal conservative, she thought this was a valuable funding opportunity for the United States.
RELATED: Sarah Palin: 'If I Had To Vote In South Carolina, I Would Vote For Newt'
But for all her positive comments about Gingrich (she said towards the end of the interview that Gingrich could "clobber" Obama), Palin did not make an official endorsement in the race. Pirro tried to push her towards one, but Palin just stated she wants the process to continue before she makes any decisions.
Watch the full interview below, courtesy of Fox News:
Have a tip we should know? tips@mediaite.com
Josh Feldman - Senior Editor