What Crisis? Sarah Palin Dismisses August Default Deadline: 'It's Not Armageddon'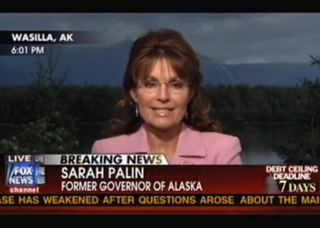 The nation is at a standstill watching as Congressional leaders threaten to bring their disagreements over the budget all the way to the brink of default. But one prominent political figure seems to be perfectly at ease with August 2: Sarah Palin, who told Greta Van Susteren tonight that she considered the deadline "looming" but did not fear disagreement up to that date.
This is just more Obama drama that's being created," Palin quipped about threat of the nation defaulting on its loans if the debt ceiling is not raised. "We will not default," she told Van Susteren, corroborating that claim with comments made by Treasury Secretary Tim Geithner: "Geithner said this Sunday that we will not default… this August 2nd deadline is loony, but it's not Armageddon." Meanwhile, she noted that the country was outraged by the debate– "the American public, we're sick and tired of it!"
Van Susteren noted that it was bizarre to try to "scare the American people if you say this isn't life or death," wondering how President Obama could pull that off if it were the goal. Palin replied that "the President is getting pretty good at this fearmongering," good enough to make it possible for the situation to seem more dire than it already is. She also praised Speaker of the House John Boehner for "trying to negotiate with Jello" and with "politics as usual from these Washington, D.C. characters." She also hoped that Cut, Cap and Balance would pass, as it is currently the only solution on the table.
The segment via Fox News below:

Have a tip we should know? tips@mediaite.com