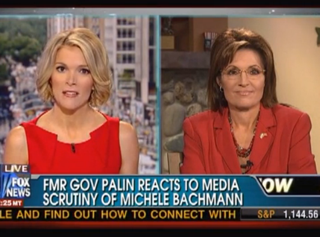 It's hard to enter a feminism feud between Sarah Palin and Gloria Steinem with low expectation's for the latter's thoughts, if only given the extra three decades Steinem has studying the subject and being at the vanguard of the feminist movement. And yet, on Fox News today with Megyn Kelly, Palin tore the feminist mantle out from under Steinem, somewhat disgruntled that the latter had made sex an issue and dismissing her claim Palin was bad for women as a relic of another era.
Palin was on with Kelly to discuss the National Organization for Women's rebuke of Newsweek for running an unflattering photo of Rep. Michele Bachmann, which the group called "sexist." While Palin was happy to see that NOW had defended Rep. Bachmann despite her beliefs, she couldn't agree that the photo was sexist, and in fact seemed pleased that Rep. Bachmann was getting a bit of a Nixonian image-destruction treatment from the media. "Bottom line," she told Kelly, "every candidate is going to be vetted." "Some will interpret that because a female candidate will be vetted the same way as a man, or moreso, as sexist– I dont know if I'd characterize it as sexist," Palin admitted, "I just characterize it as being the new normal– in a way it's quite healthy." Palin not only went as far as to call the cover, by proxy, "healthy," but take a bit of a veiled swipe at Rep. Bachmann, insisting that in the 2012 elections, such vetting will be necessary to find someone who, among other traits, had the "executive experience" to govern.
Kelly then brought up criticisms from feminist icon Gloria Steinem, who argued that Palin and Bachmann had "sold out the women's movement" and made their careers on being women "only a man could love." Palin, unfazed, argued that Steinem seemed to have missed the train on 21st century feminism– which, without either the previous statements semi-supporting the Newsweek cover or her subsequent explanation, would have made for a laughable headline, at best. But Palin actually backed up her claims with some substance, as a career woman who had risen to international recognition against the odds herself. "I think Gloria Steinem has evidently had her day… it's over, it's very passe," she said of her comments. As women who "desire to serve something greater than self," (and in this she recruited Kelly herself), "we are the women's movement; we are illustrating equality." Palin gave her predecessor credit for "adding some healthy debate back in the day," but concluded that her opinion nowadays was moot, as "she does not share our views of women being able to do much more than she gives us credit for."
At face value, it's hard to disagree with Palin's statement: that it's "healthy" to see candidates vetted equally, and any evaluation of their efficacy as political icons that stems exclusively from an acknowledgment that their genitalia is the minority in politics, in 2011, should be "passé." A woman running for office, one imagines, would much rather be lauded and smeared on their statements and political merits as harshly as any man would, and given what we're seeing with Rick Perry, Rep. Bachmann would have an uphill battle arguing she's getting it worse than anyone else. That's not to say that Newsweek's cover is or is not sexist, or that lowest-common-denominator smears like the Telegraph's now-famous Bachmann corn dog photo don't prove that not everyone has tossed gender tropes out of their political quivers. But the shift must begin with a demand from people like Palin not to be victimized, and as far as her comments here, she is doing just that. Palin even has a good argument that comparisons with Rep. Bachmann, who despite defying the 50/50 odds and being female, is an entirely different political breed, are now perfunctory are as sexist as any attack against either.
Palin goes out of her way to say vetting in 2012 requires finding a candidate with "executive experience;" Palin has proven to be a lead-from-the-front political voice with little need to learn to compromise or inform herself on what her peers– fellow governors– are thinking. Rep. Bachmann, with her attorney degree in the bag and experience in Congress, is extremely unyielding within the context of her job description, but legislating necessarily requires a different way of thinking. What's more, even in the way the two women publicly muse on their randomly selected status as females they differ more than they agree. Palin went out of her way to defend Byron York's question to Rep. Bachmann about her wifely submissiveness while in Iowa, adding that she could "never imagine my husband telling me what to do" (Marcus Bachmann famously commanded his wife to study tax law, a subject she claimed to hate). They may be conservative and have brown hair, but nothing in the way their publicly discuss their wifely duties seems to align in a way that would permit Steinem to generalize in such a way.
The validity of attacks on Palin's political prowess remains unaffected by claims that she is hurting the women's movement, only unnecessarily obscured in a way that functions to Palin's benefit. By highlighting some sort of abstract "women only a man could love" appeal, Steinem takes away from the plethora of entirely valid criticisms that give even many Republican pause about Palin– from her short time in an executive position to how fast and loose she seems to be with her understanding of complex issues, and Palin capitalized on that quite effectively here.
The segment via Fox News below:

Have a tip we should know? tips@mediaite.com