Sarah Palin Explains 'Blood Libel' And Death Threats She And Her Children Have Received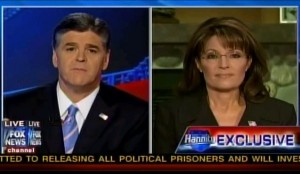 Sarah Palin gave her first interview tonight with the politically friendly Sean Hannity and addressed many outstanding issues that have surfaced since the Arizona shooting tragedy of nine days ago. In a live satellite link from her home studio in Wasilla, Alaska, the seemingly defiant and at times angry Palin candidly shared the open wound in her psyche, injured from the media maelstrom that followed the tragedy in Tuscon. Palin was neither transcendent nor reflective in the discussion, though it made for compelling television.
The first segment of the three-part interview focused on the way that the "lamestream media" pointed their fingers at Ms. Palin, specifically by faulting her use of a congressional map that featured cross-hairs. (Watch that segment here)
In the second segment, Palin appeared to be on the verge of real emotion, but not the sort of tears that come from empathy or great sadness, but rather those of frustration. And its certainly understandable; after watching the following clip there is no question that Ms. Palin feels terribly wronged by the accusations that she had a role in the Tuscon tragedy. Further, she also shared that the personal death threats that she's had to endure, even having to learn of threats made against her own children's life. That is an experience that would make any parent unhinged. Watch the second segment, courtesy of Fox News below (with the third segment to follow.)
In the third and final segment, Hannity addressed the controversy that surrounded Palin's use of "blood libel" in her self-produced video that she released days after the tragedy. When first asked, Palin seemed to skirt the question to some degree, oddly using it as a turning point to discuss political platforms in the coming year. But to his credit, Hannity circled back to ask how Palin would respond to Jewish leaders who questioned her choice of words.
Palin acquitted herself quite well in this instance, frankly explaining that she used the term properly, likening the way she had been falsely accused to having blood on her hands in the same way that Jews in medieval times had been treated. Critics may say that she seemed rehearsed, but her ease with which she explained such a complicated subject revealed that she is in fact no dummy (even if her original choice of words opened up a can of worms.)
All in all, Palin did reasonably well in her interview from the perspective of her loyal followers. But the most legitimate critique to be made towards Palin in this endeavor was that she seemed to, in no way, try to transcend the discussion to something larger than herself (she never did mention Rep. Gabrielle Giffords by name.) This is a remarkably solipsistic individual, which is understandable given the role she's played in this recent debate. But it was a missed opportunity for Palin to show the nation that she can connect with those who won't already blindly follow her.
Have a tip we should know? [email protected]