Sarah Palin Fires Up Crowd At Tea Party Rally: 'Polls Are For Strippers And Cross-Country Skiers'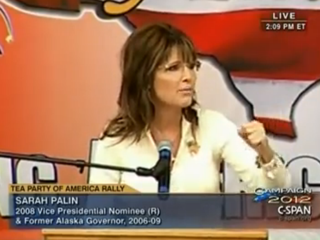 After a fairly messy booking process and on the tail of a Fox News poll showing the Republican Party really doesn't want her to run for office, Sarah Palin returned to form today in Iowa, where she railed against the Obama administration and "crony capitalism" for a good half hour, got in a few punchlines, and riled up the crowd with demands to "reclaim our country."
"We're celebrating red, white, and blue America!" she began her speech, amid the sounds of cheering and what sounded suspiciously like a vuvuzela. After painting a dire picture of the American economy as it stands today, she railed against the President: "Is this what you call winning the future? I call it losing the country!" She told the crowd that the President had "awakened a sleeping America," and that while the nation was "about the lose the blessing of liberty and prosperity," the "working people of this country… got up off the couch" (from which they were presumably working) to take back the country.
All the anti-big government capitalism talk that many predicted was also in the speech, though not necessarily directly against Rick Perry. "We are government by a political class, until we change them," she told the crowd, reminding them that "I've seen this kind of crony capitalism before" in Alaska– "the same little boy politics" that is common in governor's positions. She took some swipes at Sen. John McCain, as well, but not for so long as to detract from her core anti-Obama message.
The most memorable line by far, however, had nothing to do with either President Obama or her opponents, however: "Polls: they're for strippers and cross country skiiers." Homophone enthusiasts beware: it works better when spoken.
The speech via C-SPAN below:
Part I

Part II
Have a tip we should know? [email protected]