Sarah Palin: For The Media, GOP Primary Is 'Reality Show'– One She Thinks She Can Win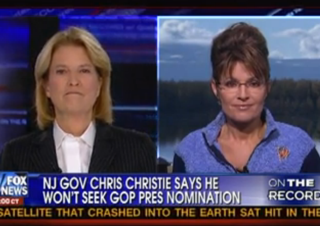 Hot off the tails of the other phantom Republican campaign, that of New Jersey governor Chris Christie, former Alaska governor Sarah Palin visited host Greta Van Susteren tonight for an On the Record interview on Christie's campaign, the rise of Herman Cain, and whether Palin is still thinking it through. Palin attributed the former two phenomena to the media's Republican "reality show," and while she expressed concern that a campaign could "shackle" her, she declared without hesitation that she could win in 2012.
On the Governor Christie matter, Palin was ready to "take him at his word" about not running for president– this is only the latest of many, many rejections of the idea for the governor, and Palin was ready to "put the nail in the coffin." As the campaign seemed to provide "a lot of entertainment value," the speculation around Christie, she explained, was just part of a "flavor of the week" mentality that some in the media had: "for many in the media, this is like a reality show."
Palin had nothing but praise, however, for this week's flavor of the week, Herman Cain, who she called "the one up there who doesn't look like he's part of the permanent political class… we respect that; that has an automatic connection." She didn't go so far as to make any endorsements, or any promises about her own campaign. "I'm a maverick and I do go rogue and I call it like I see it," she told Van Susteren, and expressed concerns that the candidate title will "shackle" her. She did add, however, that "for logistical reasons, decisions have to be made" and, when asked directly, answered that she could definitely see herself winning the election, even if her previous comments about being shackled may have led viewers to believe she was inclining in the other direction.
The segment via Fox News below:

Have a tip we should know? tips@mediaite.com