Sarah Palin: 'I Don't Have Respect For What Mitt Romney Did' In Debt Crisis Debate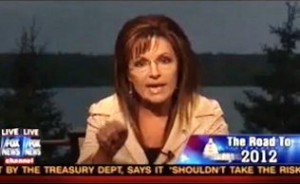 For someone who is flirting with a potential presidential run in 2012, Sarah Palin was relatively quiet during the political maneuvering of the recent debt crisis debate between the White House and the GOP. And now that the bill has been signed and financial ruin averted, the former Alaskan Governor appeared on Hannity to discuss President Obama (in shockingly derogatory terms) but also found time to provide a zing to GOP front runner Mitt Romney, who she blamed for sitting on the sidelines during the fierce political debate.
Sean Hannity broached the subject of Palin's potential run in the context of her earlier comment about the "right candidate" emerging in the race. Palin took the cue and went after Romney, which was beautifully couched in the feint praise qualifier of "bless his heart." Bless his heart indeed. And Michele Bachmann's as well, who received some surprising earnest praise from Ms. Palin for sticking to her guns on the issue of raising the debt ceiling.
A rough transcript of the exchange:
Hannity: You said if the right candidate didn't emerge, would you get into this race. It's been a while since I had you on the program. Are you getting closer to making that decision and are you leaning towards getting into this race?

Palin: Getting closer to make the decision for legal reasons, for practical reasons. Still haven't made up my mind. I want these candidates, I want them not to be sitting back — bless his heart, I have respect for Mitt Romney — but I don't have respect for what he did in this debt increase debate. he wait until it was a done deal and more money would be spent. Then he came out and he made a statement, he didn't like the deal after all. You can't defer an issue and assume that the problem is going to be avoided. No. We defer issue like not speaking out on how you believe about an issue we've got gone through as a nation, but you are inviting a crisis. Mitt Romney and other candidates they need to get out there and tell the electorate. Don't just wait and sit back.

Hannity: Is there any candidate that spoke out loudly enough?

Palin: Michele Bachmann cast her vote according to her principles. A lost times with debate and discussion on who the right candidate will be. I'm not prejudging the field at this point.
Sarah Palin's comments on GOP candidates are dripping with meaning and good political capital, as her loyal followers will likely throw their weight behind any candidate she feels worth. If, of course, she decides not to run her self doggonit!
Watch the video below, courtesy of Fox News:
Have a tip we should know? tips@mediaite.com