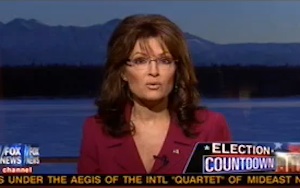 Appearing on Fox News' Hannity, former Alaska Governor Sarah Palin endorsed Newt Gingrich — but only in South Carolina's primary, to keep the Republican nomination race going. "If I had to vote in South Carolina, in order to keep this thing going, I'd vote for Newt and I would want this to continue," Palin opined.
RELATED: Game Changer? Todd Palin Endorses Newt Gingrich For President
"I think a lot of people now in the media and certainly on the left want to make voters believe that it is inevitable that today's frontrunner who has all the campaign cash in order to run these ads and as– you know– strong Super PACs that have a lot of money to run a lot of negative ads against opponents, they want us to believe the more moderate can indicate– will be the one to face Obama in the fall, but I don't believe it is inevitable and I don't believe he with the most money actually has to be the one who wins."
"More debates, more vetting of candidates because we know the mistake made in our country four years ago was having a candidate that was not vetted, to the degree that he should have been so that we knew what his associations and his pals represented and what went into his thinking, the shaping of who our president today is. That vetting did not take place. I want to see that taking place this time because America is on this precipice — it's that important. We need this process to continue," she added.
Watch Palin tell South Carolina voters to vote for Gingrich below via Fox News:

Have a tip we should know? tips@mediaite.com