Sarah Palin: 'There Is A Different Standard For Men And Women, But So What!'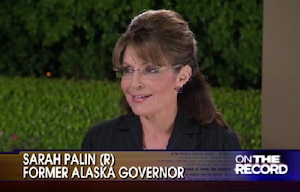 Last night Sarah Palin returned to Fox News after traveling abroad to India and Israel, and sat down with Greta Van Susteren to discuss a number of topics in the news. Yes, she somewhat predictably found time to criticize the administration's handling of Libya, but perhaps a more interesting exchange focused on an alleged different standard between men and women active in the political landscape. When asked if women are held to higher account, especially when it comes to gaffes, Palin said "of course, but so what?!"
Van Susteren pegged the discussion to what she called a "big gaffe" made by presumptive presidential candidate Michele Bachmann in which she confused New Hampshire with Massachusetts as the location for the "shot heard round the world." In truth, it wasn't much of a gaffe, a trivial mistake that was used by opinion media types likely looking for evidence to support a preconceived notion of Bachmann's intellect, so it seems odd that Van Susteren would at once question the unfairness of Bachmann's treatment and at the same time overplay it.
Palin's response to the question of an alleged double standard was played very cleverly; she admitted that she was unfairly treated by the media and at the same time offered that complaining about it did her no good. This line of defense allows Palin to play both sides of the debate: of course she's being victimized, but she's self-reliant enough to not care and want to work through it. A cynic might see this line of defense symptomatic of a persecution complex, but given the vast amount of attention Palin receives from the news media (and yes, including this site) one can reasonably understand why Palin would feel this way.
So…is Palin treated unfairly? Yes and no. If Palin would ever allow herself to be questioned by a news operation in which she was not a paid contributor, she would probably have different treatment. As long as she safely stays on the Fox News airwaves, she will be viewed by many as playing a safe and sheltered media strategy. However, Palin isn't no where near the two-dimensional nor dopey caricature that many opinion media personalities seem to see, and yet very often her comments are amplified through a frame that continues the narrative of Palin being uninformed, which yes, is unfair.
As for the amount of coverage Palin receives (which admittedly is vast), Palin has made herself into a huge media personality – with best-selling books, a pundit gig on Fox News and even her reality show. So criticism that Palin is over covered isn't of itself a fair critique of the media.
(H/T Breitbart.tv)
Have a tip we should know? tips@mediaite.com