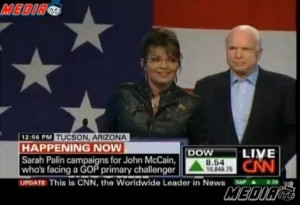 At a campaign rally for Senator John McCain today, former Alaska Governor and future TV travel guide Sarah Palin was in fine form, urging supporters to "send the Maverick back" to the Senate, poking fun at her Telepalmter, and joking that some might think that McCain was at the original Boston Tea Party.
She then brought up the "lamestream" media's silly focus on violence and threats in the wake of health care reform's passage, and made a clarification that might be a week too late. .
Palin starts by saying that there's a "ginned-up controversy" about conservatives inciting violence just because they "happen to oppose some of the things in the Obama administration."
Maybe she meant that they happen to oppose some of the things she made up about the Obama administration, like that they want to kill her son with a "Death Panel."
But then, an audience member yells out "We'll do it with our vote!"
Palin seizes on this, saying "When we take up our arms, we're talkin' about our vote!"

Perhaps she could have issued that clarification before the racial and sexual slurs, spit and brick attacks,  and death threats that followed passage of health care reform. The controversy intersected with Palin when she tweeted her supporters to "reload," and directed them to a congressional map on her Facebook page that featured crosshairs over vulnerable Democratic districts. Critics say this would be irresponsible even in a cool political climate.
Does this rise to the level of "incitement?" Not in my view. As a political rhetoritician myself, I am loath to relieve criminals of responsibility for their actions based on anything but the clearest of provocations. The fact that bunches of people want to work themselves up into an apocalyptic frenzy based on transparent political posturing is on them.
Is it "ginned up?" Also no. The rash of overreaction is definitely cause for concern, and Republicans who ignore this do so at their peril.Just as John McCain did at the end of the presidential campaign, Republicans need to help cool things down.
As far as the politics go, it may be unfair to accuse Republicans of "incitement," but highlighting the natural extension of their years-long campaign of hyperbole and misinformation is fair game. If the tables were turned, the Democrats could expect nothing less.
Here's the full speech:

Have a tip we should know? tips@mediaite.com