Sarah Palin: Obama/Hillary Clinton Ticket Would Have 'Darn Good Chance Of Winning'
Palin: Obama/Hillary Ticket Would Have 'Darn Good Chance Of Winning'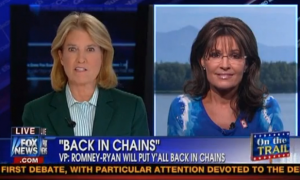 Sarah Palin made an appearance on Greta Van Susteren's show Tuesday night, during which she discussed Vice President Joe Biden's controversial comment that Republicans "are going to put y'all back in chains."
RELATED: Biden: '[Republicans Are] Going To Put Y'all Back In Chains'
Calling Biden's comment "disgusting," Palin went to note that President Barack Obama's campaign might want to rethink the number two spot on the ticket:
If that's not the nail of the coffin. The strategists there in the Obama campaign have to look at a diplomatic way of replacing Joe Biden on the ticket, with Hillary. And I don't want to throw out that suggestion and have them actually accept the suggestion because an Obama/Clinton ticket would have a darn good chance of winning. But Joe Biden really drags down the ticket.
Palin further commended the impassioned speech Mitt Romney gave on Tuesday night, observing that Romney seems to be realizing this is the home stretch. "I think that Gov. Romney, now having spent years, literally, running for president, has really grasped the notion now that this is not a dressed rehearsal," she said, noting that Paul Ryan has energized his campaign.
RELATED: Romney: Obama's 'Campaign Strategy Is To Smash America Apart'
Van Susteren then cited the Obama campaign's response to the speech (calling it "unhinged") and noted that each side thinks the other side is "dirtier."
"And Joe Biden isn't unhinged today?" Palin asked — adding that she can't think of one prominent Republican who talks the way Biden and Harry Reid do. And if they did, she said, they wouldn't get away with it.
The pair went on to discuss some of the negative campaigning that's come from the Obama campaign, with Van Susteren lamenting, "It is going to get a lot worse."
Take a look, via Fox News:

Have a tip we should know? tips@mediaite.com