Sarah Palin On Her Author Neighbor: "It's Just None Of His Flippin' Business"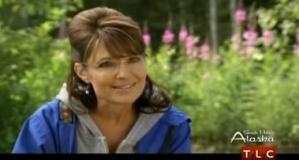 Sarah Palin has had a very contentious relationship with the author Joe McGinniss, who moved in next door to the Palin family for a few months over the summer.
It became a topic of last night's premiere episode of Sarah Palin's Alaska, with Palin saying, "it's just none of his flippin' business."
McGinniss, who left in September, was that mean neighbor you see in many TV series. At one point, the family returns from fishing, and "Piper spies right there in the next door neighbor's yard, our neighbor."
Is he taking pictures, asks Palin (although – why would he be taking pictures?). "Don't give him the pleasure of taking a picture," she tells her daughter Piper. "It's just none of his flippin' business…he was stuck inside writing an ugly book. See we one-upped him, Piper, we had a good day, and he's stuck in his house."
As a side effect of exposing the beauty of Alaska for TLC and showing off her 'just a regular family' life, she is able to get ahead of the McGinniss book, painting him as a villain to an audience who probably don't even know who he is.
At the end of this clip is the other Palin, trying to keep a boy from going upstairs with her 16-year-old daughter Willow. "You can text her up there," she tells the boy, later calling Willow from her Blackberry, urging her to come down. We get to see Palin, the mom, but in a new media twist.
Here's the segment from the show last night:

—–
» Follow Steve Krakauer on Twitter
Have a tip we should know? tips@mediaite.com