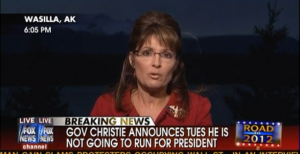 Former governor Sarah Palin, fresh off announcing that she won't be seeking the GOP presidential nomination for 2012, made an appearance on Greta Van Susteren's On The Record to discuss the current field.
She shares that she decided to make an unequivocal announcement after seeing the media's back-and-forth speculation concerning New Jersey Governor Chris Christie's plans to run (or, as it turns out, his lack thereof). She adds that she didn't want to hold a press conference or "make a big darn deal about it," because "this isn't about me," nor is it about any one candidate. It is, rather, "about Americans who are understanding they've got to get the right people in these positions of leadership of our country to get us back on track."
"How do you determine who is the best leader for your party?" Van Susteren wanted to know.
"There is no one, perfect candidate," Palin answered. "And I want people to keep that in mind and not be extremely disappointed in a politician. A politician is gonna let you down, is gonna make decisions that you don't entirely agree with and you can't just lose hope in what that politician's ideas reflect and represent."
She shared that her husband, Todd, has been handling calls, including some from politicians, and setting up meetings. Palin proceeded to pitch Van Susteren an interview with… Todd.
Later on in the interview, Palin shared her thoughts on President Obama's "strengths and weaknesses:"
Weakness is his track record. It's been a record of failure. He's got a couple of successes there thanks to our Navy SEALs. I would say overall he has failed, especially with economic issues, he not understanding that it is the private sector that creates jobs; it's not gonna be government.
And his strength? "He's gonna have a billion dollars up against the Republican candidates and he's going to have about 90 percent of the media still there in his back pocket."
Have a look at the segment, via Fox News:
Have a tip we should know? tips@mediaite.com