Palin Reacts To HBO Movie About 2008 Campaign: 'Based On A False Narrative'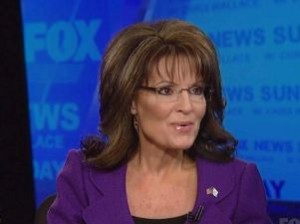 Sarah Palin appeared on Fox News Sunday today, and towards the end of her interview with Chris Wallace, the host confronted her with clips from the highly provocative movie Game Change, based on the bestselling book. Wallace played a portion of the movie's trailer, including the part where Woody Harrelson's character says the 2008 vice presidential candidate was "on the verge of a complete nervous breakdown." Wallace acknowledged "the look on [Palin's] face" the second he brought up HBO, and as he teased the trailer, Palin asked, "Must we?"
Her first reaction was to at least give the filmmakers credit for the "Sarah Palin Employment Act," and joked they should be thanking her for helping create more jobs in filming the movie than President Obama. However, she admitted she's "not too concerned" about the film, and insisted it's "based on a false narrative" about the campaign. Wallace brought up claims made by the book and film that Palin went into a "funk" during the campaign, hence the "nervous breakdown" line.
RELATED: Meghan McCain On Game Change: 'Republican Voters Don't Watch HBO. Are You Kidding?'
Palin awkwardly laughed it off, before saying again that she's not even outraged about the film.
"I'm sorry that millions of people are going to waste their time… I was never in a funk. Thank God I have the right perspective on what really matters in life, Chris. And there's no need to ever be in a funk when you know what right priorities are and what really matters in this life."
She said she's "ambivalent" about the film, but encouraged people to find something else to do with their time rather than watch the movie.
Watch the clip below, courtesy of Fox News:
Have a tip we should know? tips@mediaite.com
Josh Feldman - Senior Editor