Sarah Palin Rejects Moderation on Today: 'Stand in the Middle of the Road, You're Gonna Get Hit'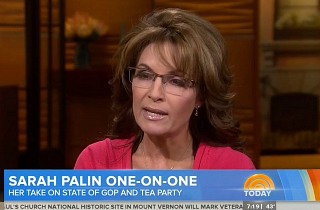 On Monday, former Alaska Gov. Sarah Palin appeared on NBC's Today with Matt Lauer to promote her new book, Good Tidings and Great Joy: Protecting the Heart of Christmas. During that interview, Palin took aim at President Barack Obama, the problematic roll-out of the Affordable Care Act, and moderate Republicans. The former governor defended the actions of tea party members of Congress and predicted that a moderate GOP presidential nominee would not perform as well in the next general election as many suggest.

"From the tea party, over and over again, we're hearing the words 'no,' 'defund,' 'delay,'" Lauer began. "What are we hearing from the tea party in terms of an absolute realistic plan that can be an alternative to Obamacare?"
"The plan is to allow those things that had been proposed over many years to reform a health care system in America that certainly does need more help so that there's more competition, there's less tort reform threat, there's less trajectory of the cost increases," Palin replied. "And those plans have been proposed over and over again, and what thrwarts those plans? It's the far left."
RELATED: Limbaugh: When Someone Attacks Sarah Palin, 'They're Attacking Me'
Lauer pivoted to New Jersey Gov. Chris Christie's strong reelection victory. "In the past you have not seemed all that impressed with him," Lauer asked. "Are you changing your mind?"
"I would never put my faith and hope in any one individual politician. Oh, please. Not any of them," Palin replied. "There is no Ronald Reagan on the scene today."
Lauer noted that Christie won his victory even after attacking the tactics of some tea party politicians, like the government shutdown, as "stupid."
"If you look at the result of the election, isn't the message to the tea party that the middle ground, not the far right, is the most fertile ground for upcoming elections?" the Today host asked.
"When you stand in the middle of the road, you're gonna get hit on both sides of the road," Palin responded. "We need to take a stand and support those just fulfilling their campaign promises."
Watch the clip below via NBC:
[Photo via screen grab ]
— —
> >Follow Noah Rothman (@NoahCRothman) on Twitter
Have a tip we should know? tips@mediaite.com