Sarah Palin Responds To Politico's Hit Piece: 'I Think It's Very Unprofessional'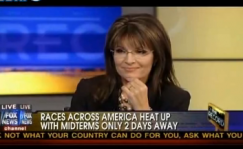 Perhaps not surprisingly given all the subtle (and not so subtle) digs Sarah Palin has been sending the GOP establishment way, and hot on the heels of Frank Rich's speculation that a 2012 showdown is brewing between Palin and the "G.O.P. country club elites", comes this Politico piece titled 'Next for GOP leaders: Stopping Palin.'
Interviews with advisers to the main 2012 presidential contenders and with other veteran Republican operatives make clear they see themselves on a common, if uncoordinated, mission of halting the momentum and credibility Palin gained with conservative activists by plunging so aggressively into this year's midterm campaigns. (See: Sarah Palin wreaking havoc on campaign trail)

There is rising expectation among GOP elites that Palin will probably run for president in 2012 and could win the Republican nomination, a prospect many of them regard as a disaster in waiting.

Many of these establishment figures argue in not-for-attribution comments that Palin's nomination would ensure President Barack Obama's reelection, as the deficiencies that marked her 2008 debut as a vice presidential nominee.
Mike Allen notes in Playbook this morning that he and Jim VandeHei "discussed the piece for several days with a top aide to Palin, who e-mailed yesterday: "After reflection, I don't want to talk about this before the Tuesday election."
Politico has seemingly had the long knives out for Palin of late. Two weeks ago they published a long-ish piece on why Palin was making the GOP nervous because she was disorganized. Perhaps they can start a news series for 2011 called the GOP establishment comes to terms with its Frankenstein.
Meanwhile, Palin, herself, weighed in on the Politico piece and its anonymous sourcing on Greta Van Susteren last night.
Palin: These are the brave people who want to lead the nation and run the world. And but they're not brave enough to put their name in an article.

Greta: You'd think in this article there'd be one named source. These are two veteran journalists but they take you apart limb, by limb, by limb. With nothing but descriptions of anonymous sources.

Palin: That's why I don't talk to some of these reporters who are a part of this yellow journalism world of not using name sources. I think it's very unprofessional…I learned back in the day that who, what, when, where, why of journalism. You report that facts; you let other people decide what their opinion is going to be. So having unnamed sources in an article like this is very, very, disappointing, you know. And it doesn't do anybody any good. It doesn't educate anybody. [Greta: Horrifying!]
As we all know, Sarah Palin is a stickler for the facts. Meanwhile, Palin also notes that she finds it surprising that Politico claims "I haven't faced criticism. Holy geez: Where have they been the last couple of years?" Presumably what they mean is that she hasn't actually faced the press outside her Facebook page and cushy Fox News gig. Something she'd eventually have to do if she ran for president, which she is probably not going to do. Watch below.
Have a tip we should know? tips@mediaite.com