Sarah Palin: Ron Paul 'Is The One Americans Need To Listen To' On Domestic Spending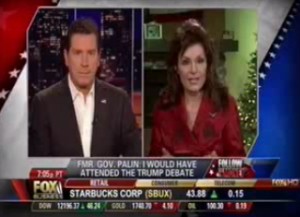 Former Alaska Governor Sarah Palin joined Eric Bolling on Fox Business Network's Follow The Money Wednesday night, and chimed in on several hot-button GOP issues, including the Donald Trump debate and Newt Gingrich's rise in the polls. But her most interesting comments came when Bolling got into the weight that her endorsement may carry.
"You know the endorsement that I'm most interested in?" Palin asked. "Ron Paul's, to tell you the truth." Palin said she didn't agree with Paul's foreign policy, pointing out that he wasn't even invited to the Republican Jewish Coalition's summit this week. But she said that he was "absolutely right on" when it comes to his stand on domestic spending issues.
"He's the one that Americans need to listen to when it comes to dealing in reality about this bankrupt path that we are on," she said. "So Ron Paul's endorsement — not saying he won't get the nomination, but in case he doesn't — who it is that he chooses to endorse will give us a clear indication of who is on the right path with domestic spending that needs to be addressed. I'm very interested in hearing what Ron Paul thinks at the end of the day."
As far as the Trump debate on Dec. 27, Palin thinks that candidates skipping it do so at their own peril. Not because she's necessarily a huge fan of Donald Trump, but because he could bring in an audience that hasn't been exposed to the stable of GOP candidates yet:
"It's very important that independents and those who are not obsessed with inside baseball partisan politics — which is most of us — we would like to hear more of the message of each one of these candidates, and perhaps Donald Trump would be able to attract the diverse demographic that maybe has not been as interested in this horse race, this primary process thus far."
She added Mitt Romney should attend the Trump debate because, "We can't just be preaching to the choir."
Watch Palin's Follow The Money appearance below, in two parts, courtesy of Fox Business Network:
Part 1:

Part 2:

Have a tip we should know? tips@mediaite.com