Sarah Palin: 'Same Corrupt IRS' That Targeted Conservatives 'Will Be In Charge Of Enforcing Obamacare'
Palin: 'Same Corrupt IRS' That Targeted Conservatives 'Will Be In Charge Of Enforcing Obamacare'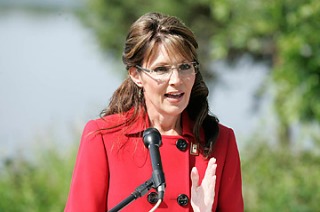 Former vice presidential candidate Sarah Palin blasted President Barack Obama and the federal government on her Facebook page on Friday over the acknowledgement by the Internal Revenue Service that they had intentionally singled out conservative groups for added scrutiny during the 2012 election cycle. "I'm sure President Obama is grateful for all the help the IRS gave his reelection campaign, but, still, you have to wonder how the bureaucrats who tried to pull this off can sleep at night," Palin wrote.

RELATED: IRS Apologizes for Targeting Conservative Groups During 2012 Election
"So many Americans knew this was happening, but many felt defenseless and even helpless against a government that seems to roll along without accountability or sense of obligation to the people it's supposed to serve," Palin wrote. "These Americans were mocked for being concerned about this, but now we see light shining on the truth, finally."
Americans should remember that this same corrupt IRS will be in charge of enforcing Obamacare. And this same inept and corrupt government will supposedly secure our now unsecured borders in advance of immigration reform and will implement a completely ethical and non-political IPAB panel to make life and death health care decisions for you and your family. Forgive me for not trusting these big government promises any more than I trust the White House's latest Benghazi spin or the IRS' fairness.
In an apology on Friday, the head of the IRS's exempt organizations division, Lois Lerner, admitted that the revenue service's Cincinnati-based division singled out groups with the words "tea party" or "patriot" in their applications for added scrutiny when applying for tax-exempt status.
> >Follow Noah Rothman (@NoahCRothman) on Twitter
Have a tip we should know? [email protected]