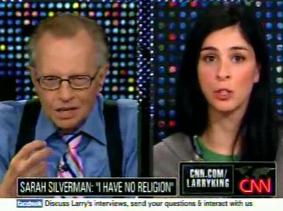 CNN's Larry King devoted a large portion of his 9pmET cable news show last night to interview comedian Sarah Silverman – because, you know, CNN is in a "category of one."
Besides talking about her new book, The Bedwetter, King closed the interview with a question about Sarah Palin. This wasn't going to end well.
As Newsbusters points out, King tossed Silverman the softball and, naturally, she hit it predictably right down the middle. "Sarah Palin, what do you think, Sarah Palin, I've got to say her name because we have to say it every night," said King.
"About what? Her posing in Playboy?" asked Silverman. "I think she should go for it."
Now, if it ended there – fine. It's expected from a comedian as blue as Silverman to throw something like that into the middle of the discussion. But then, King quickly responded, "Agreed. Thank you Sarah."
So now the host of the prime time cable news show – on the network that continues to do all the journalism the other networks supposedly won't – is agreeing that Sarah Palin should pose in Playboy. Was he joking? Sure. But does that make it ok?
Earlier in the interview, King asked Silverman if there was "anything you won't joke about?" "Probably not," she said, but pointed to one area: "Fat jokes about women. That always bums me out. I feel like we live in a country where fat women, at least in white America, don't deserve love."
Also, Silverman made her pitch for Larry King's anchor chair, which he called the "best job in television." "Get in line," he joked. "I just feel I'm a better fit," she said. Well if her guests would be Silverman-esque, maybe she's right. Tomorrow night on Larry King Live: actor and reality TV rehab regular Tom Sizemore.
Meanwhile the chyron writers had a field day with the various Silverman segments. Here were some of the favorites:
"SILVERMAN ON WHY SHE TOOK 16 XANAX A DAY: 'It was a time you didn't question doctors'"

"SARAH: DAD TAUGHT ME TO SWEAR WHEN I WAS 3"

"SARAH SILVERMAN: 'I HAVE NO RELIGION'"
Oh great. Here's the Palin comment (at the end of the first video) and one of CNN's embeddables with the "fat jokes about women" part is below:


——
» Follow Steve Krakauer on Twitter
Have a tip we should know? tips@mediaite.com