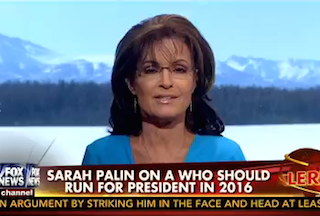 Sarah Palin joined Fox News' Eric Bolling on Cashin' In Saturday morning and shared her thoughts on some of the big news stories of the week. After throwing some harsh words towards Hillary Clinton and Al Sharpton, the only person she seemed to have anything nice to say about was Jon Stewart.
Despite the fact that Palin recently suggested Clinton should run for president in 2016, she clarified to Bolling, "I said it's fine if she ran, I didn't say it's fine if she won." She added, "We don't need, you know, more of the blue blood. We need new energy!"
On the recent revelations about Sharpton possible role as an informant for the FBI during the 1980s, Palin said, "There are so many reasons to look at Al Sharpton and not be impressed, this is just one of those." Without much elaboration on what about helping the FBI makes the current MSNBC host a bad person, she instead focused on his role as a "critic of the average American" like her. "He's not one to help to get the country back on the right track," she said.
Towards the end of the interview, Bolling brought up a recent PSA in which both Palin and Stewart's voices appear side-by-side. To be fair, Palin avoided saying anything explicitly positive about The Daily Show host, but did highlight his role in the effort to help wounded soldiers who are looking for training and work.
Watch video below, via Fox News:
[photo via screengrab]
— —
>> Follow Matt Wilstein (@TheMattWilstein) on Twitter
Have a tip we should know? tips@mediaite.com