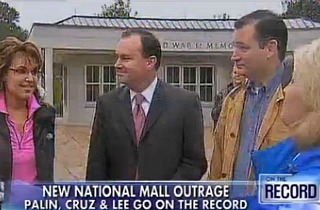 Prior to speaking at an political rally over the weekend in Washington D.C., Sens. Ted Cruz (R-TX) and Mike Lee (R-UT), and former Alaska Gov. Sarah Palin, spoke with Fox News Channel host Greta Van Susteren about what drove them to attend the tea party protest. "Our commander-in-chief should be standing with our vets, not trying to use them as political pawns," Cruz charged.

"We think it's atrocious that our military is being used as political pawns in a political game," Palin told Van Susteren. "And we're gonna change that."
"This belongs to the people, and we're here to show our solidarity with them," Lee agreed.
"Our veterans should be above politics," Cruz added. "It is shameful that the administration is barricading and trying to shut down the memorials."
RELATED: Million Vet March Organizers: We Were 'Hijacked for Political Gain'
He added that the House passed a bill to restore funding to America's monuments days ago and the Democrats in the Senate have not taken the measure up. "They're trying to play games, and the American people know they're trying to play games," Cruz said.
Van Sustern asked how no one in the Congress knew that memorials would be closed or that veteran death benefits would be frozen in the wake of a government shutdown. "No one realized that?" she asked.
"Just like we didn't realize that they were going to put doors around the World War II Memorial," Lee countered "You had to build doors in the first place in order to lock them."
Palin identified a "lack of respect coming from the top" governing how America's veterans had been treated during a shutdown. She scolded President Barack Obama for failing to appear at the protest.
"His political operatives made the decisions initially, but President Obama personally has issued a veto threat saying he will veto funding if we open this memorial," Cruz charged.
"But he signed it," Van Sustern countered.
"He signed it and he said he will veto funding to fund the VA," Cruz said. "Our vets should be above politics."
Watch the clip below via Fox News Channel:
[Photo via screen grab ]
— —
> >Follow Noah Rothman (@NoahCRothman) on Twitter
Have a tip we should know? tips@mediaite.com