Sarah Palin Tells Hannity She Won't Discourage Donald Trump From Independent Run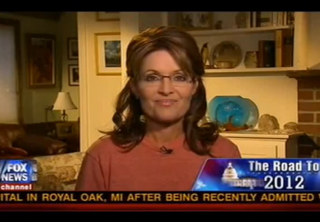 Sarah Palin has never quite fit into the Republican Party– her rise to prominence in Alaska was precisely, in many ways, a backlash to the corrupt GOP establishment. So while she does claim to believe in the principles of the party as she understands them, it comes as little surprise that she does not rule out its demise in favor of true conservative alternatives– like, she tells Sean Hannity, Donald Trump.
Palin was in good spirits on Hannity last night, as the segment began with the bizarre accusations flung at her from MSNBC's Martin Bashir that her One Nation Tour's use of the American flag was illegal. "What a goof!" she laughed. "Who does he work for?" She then accused MSNBC of breaching the same flag violations and reiterated that Bashir was a "joke" who "has no clue what the laws are."
The conversation then veered to the tour itself, and her dinner with real estate mogul and somehow still potential presidential candidate Donald Trump. Hannity asked if she could see him running as a third party candidate, and how she felt about the impact of a run like that on the Republican Party. "I respect some of the things Donald Trump represents," she told Hannity, and added that she would "love for him to stay in there shaking it up." While Hannity hesitated on that matter, noting that it could do some serious damage to the party, Palin seemed to have gotten over that hurdle. "A year ago I would've said 'please don't even consider third party," she noted, but warned that "if they're not careful in the GOP, a third party will rise up," comparing it to the demise of the Whig Party at the expense of the rising Republican party early in the nation's history.
The segment via Fox News below:

Have a tip we should know? tips@mediaite.com